Photobook Canada: 30% Off + 48% Off Your Next Order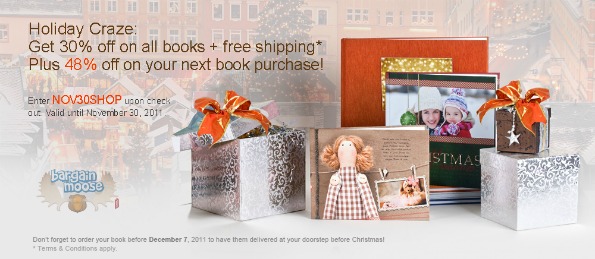 Get 30% off your Photobook and get free shipping (with $65 purchase) through the month of November, 2011 at Photobook Canada. You'll also get 48% off your next order from Photobook Canada.
Discount: 30% Off & 48% off your next order
Coupon Code: NOV30SHOP
Expries: 30th November, 2011
The discount code is applicable for any photo book style, size and book purchase, including and not limited to any quantity of books per purchase for a limited time offer.
All orders made in the month of November 2011 will receive a voucher with 48% off their next order. This voucher will be given based on book quantity. (I.e If you've ordered 2 books in one single order, 2 vouchers will be given). Voucher code is valid from 1st December 2011 until 9th May 2012.

Free shipping is only applicable for purchases that meet the minimum purchase value requirement of CAD65, after the application of discounts/ promotional codes and any related offers inclusive of tax, if applicable, whereby purchases must be made in a single order. Free shipping is not applicable for orders weighing more than 15kg.
If you want your photobooks for Christmas, make sure to order by 7th December, 2011. Photobooks make great gifts and the extra 48% off voucher will be great to make a photobook after the holidays are over or create a 2011 photobook. That's what I plan to do.