Photobook Canada: 2 Notebooks Only $8.99 ($30 Value) (EXPIRED)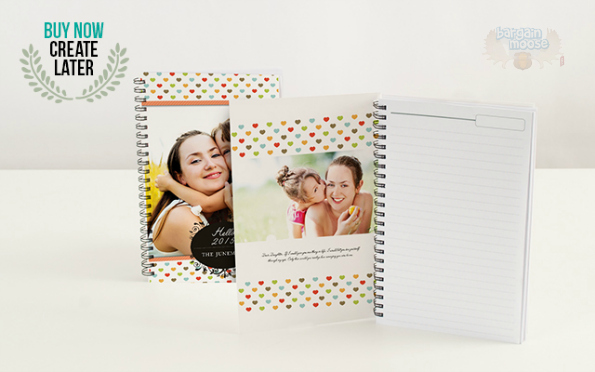 Photobook Canada is selling vouchers for two (identical) personalized notebooks for only $8.99. This voucher package has a value of $29.98 as the price includes taxes as well. Individually, each personalized notebook would cost just $4.50 per copy.
An average individual might only use a couple notebooks per year, but students often go through several notebooks of paper per academic year. In university, my average was 500 sheets of paper between assignments and notes!
This offer will give you two 5" x 8" Lined or Plain Notebooks with your personalized front. The lined paper is great for note taking and the plain notebooks are excellent for drawing, sketching, and mind mapping.
Now, if you need more notebooks - you can buy them at an even better bulk price.
 5 identical copies of 5" x 8" Notebooks ($3.80 per copy) - Was $74.95 | Now $18.99
12 identical copies of 5" x 8" Notebooks ($3.33 per copy) - Was $179.88 | Now $39.99
Each notebook comes with 150 pages of 80-gsm paper. The notebooks feature a customizable front and back of the cover (cover and inner cover) on card stock with double-sided matte lamination.
The 12 copies of the notebook is, of course, the best deal at only $3.33 per copy. At that inexpensive a price per unit, these would make lovely wedding gifts to guests. The notebooks can be personalized with a picture or two of the coupon and a sweet message left on the inside for guests. Perhaps thank them for coming, remind them how special this day was because of them, or write a poem that captures the moment. You can even, simply, write the names of the bride and groom as well as the date of the wedding.
I did a little basic price comparing with other online retailers. Vistaprint charges $8.49 per personalized notebook and Shutterfly charges $13.49 for the same size of notebook.
The only downside to this deal is that shipping is not included. It will have to be paid for separately when you place your order. As this is a voucher, you have until the 1st of April to make your notebooks and use the voucher on your order. That certainly gives you some time to choose the right images and plan your words carefully.
(Expiry: 22nd April 2015)