Pay Just $27 for $70 Worth of Vistaprint Custom Printed Goods @ Groupon Canada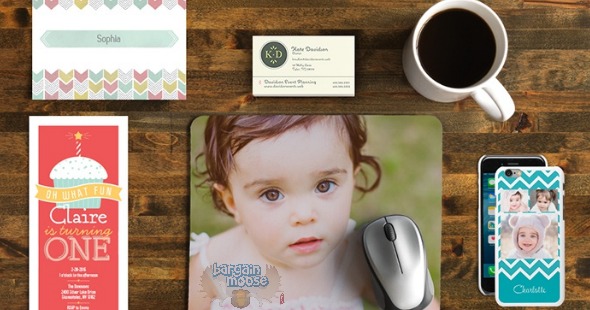 Groupon Canada has an excellent offer available if you are in the market for some custom printed goods like business cards, calendars, t-shirts, mugs and more. Through Groupon.com you can pay just $27 to get a voucher for $70 to use at Vistaprint.ca. This offer is available for a limited time only, so snag this offer now to redeem your 60% savings.
Vistaprint.ca is an excellent place to design and custom-print lots of different goods and gifts. I personally had my son's first birthday invitations made by Vistaprint and I was thrilled with the quality. When you purchase this offer from Groupon.com, you will receive a voucher code to use at Vistaprint.ca. This voucher code can be found by going to My Groupons and clicking the view voucher option.
Vistaprint.ca even has a promo code available right now that will get you 15% off site wide and free shipping for the next few days. Combine these two offers for the ultimate discounts on custom printed goods.
Coupon Code: SHIPFREE
Discount: 15% off site wide & free shipping
Expiry: 1st February 2015
Pay close attention to the fine print on this voucher code though. Your voucher will expire on the 31st of May. If you were hoping to use this towards some Christmas gifts, get your shopping done early. You will be limited to one voucher. One good thing about receiving voucher codes instead of gift cards or physical items is that you don't have to worry about any shipping fees.
So order this offer from Groupon.com and get started on adding your own images and text to t-shirts, mugs and more. The great thing about Vistaprint.ca is that you can design your items right from scratch or select from many appealing templates. My step-mom has calendars made by Vistaprint Canada for the entire family each Christmas. These calendars always turn out awesome. She adds all of our birthdays with a recent image of each person on their birth date. She's not very computer savvy, so Vistaprint is pretty easy for anyone to use.
You can even find more Vistaprint Canada coupon codes in the Bargainmoose forums. Keep your eyes peeled for great offers here, especially if you want to combine your Groupon voucher with other savings opportunities to get yourself a hot deal in the future.
(Expiry: 1st February 2015)