Orangefish Canada Coupon Code: 58% Off Silver Angel Wings Necklace (+ Up To 70% Off Other Jewellery)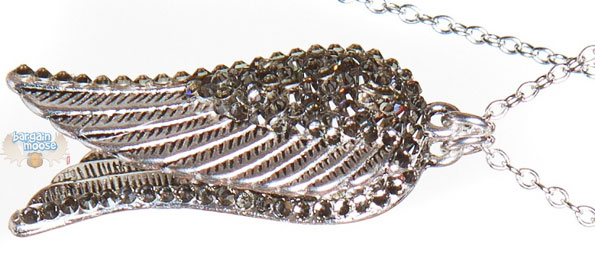 The necklace above looks like it's in the shape of a duck, doesn't it? It's actually silver angel wings and it's on sale for just $25 (reg. $60) at Orangefish. Other pieces of jewellery are also currently on sale for up to 70% off the original price.
For some time now, I have been looking into getting wings like these for a silver chain I have and these ones look fantastic. No worries if you don't have your own chain though, as it comes with a sterling one. Even better is that it's not any regular trinket, as the crystals on these wings are clear Swarovski. Now that I have a daughter, it would be great for both of us to have the same necklace and this one would be perfect. From the picture, it also looks like the two wings aren't attached, so perhaps one person can wear the one wing, while another wears the other - in a best friends forever kind of fashion.
By getting these wings, you will also be contributing to a great cause as 25% of proceeds are donated to Project Angel, which helps victims of domestics violence in women's shelters. Quite the worthy cause and it definitely makes sense as to why this necklace was chosen. In fact, you can also get the pink angel wings necklace for the same price of $25 and still contribute to the project. It looks exactly the same as the silver one, except that it has pink coloured stones instead. You can also choose to have this necklace in either fuchsia or light pink.
Shipping is generally at a flat rate of $8.88 but if you shop for over $79, then your order will also qualify for free shipping. Since it's somewhat of a high free shipping minimum, I suggest you check out the other items in Orangefish's jewellery sale. I also found the roe ring on sale for $14.99 (reg. $70). It features hand pressed Czech Republic glass beads on a sterling silver ring. Although it's not a ring I would ever get personally, it is someone's review of it that made me want to feature it here:
I thought I had it all but my friends with kids tell me being a mom is everything. I can't wait to show them my new eggs... and I don't have to wait 9 months to do it!
(Expiry: 21st August 2014)