Officially Licensed Harry Potter Collectible Quidditch Set $31.55 @ Amazon.ca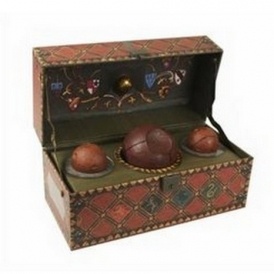 If you've been thinking of Christmas gifts for a Harry Potter fan that are unique and would be cherished by the recipient, look no further than this first officially licensed Harry Potter Collectible Quidditch Set available from Amazon.ca, for $31.55. It's almost 20% off of the regular retail price. It's quite stunning in it's design and even has a lock and key for the trunk! It will make a great display piece.
You'll receive:
1 Quaffle
2 Bludgers
1 non-removable Snitch
1 16x24" collectible poster
Quidditch trunk.
Shipping at Amazon.ca has made some changes to their shipping policy, they are now offering free shipping on orders $35 and up on eligible items when previously it was $25. At this rate increase, I would consider looking into an Amazon Prime membership ($79 a year, and no minimum purchase required on eligible items!) In this case, shipping shows around $5 if you don't top up your order.