Mother's Day Sterling Silver Pendant Just $55 + Free Shipping @ Amazon.ca (EXPIRED)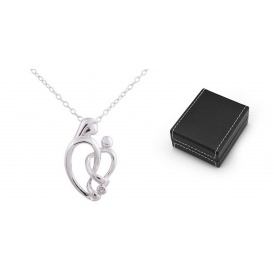 With Mother's Day fast approaching, this lightning deal of a Mother & Child Sterling Silver Pendant and 18" chain at Amazon.ca couldn't have come along at a better time! It is priced at $55 right now, with free shipping. The regular price is $73, so you are saving 25% off! You have to jump on this deal fast though, because it expires shortly at 2:45 AM, EST on April 25, 2016.
The mother and child on the pendant are intertwined together, in a true display of love for one another. There just is no bond like that between a mother and child and any mother will truly cherish this gift. (I know I sure would like it if my kids read this and get me one, hint hint!)
The pendant and 18" included chain are made out of 925 sterling silver that is rhodium plated, and it has a real diamond (0.01ct). A certificate of authenticity is included. One thing I love about sterling silver is that it doesn't tarnish easily, but most importantly it doesn't turn necks green either the way some other metals can do. It arrives in a lovely gift box, suitable for gift giving.
(Deal Expires: 2:45 am EST April 25, 2016)