Mixbook Coupon Code: Exclusive 35% Off Classic Square Photo Books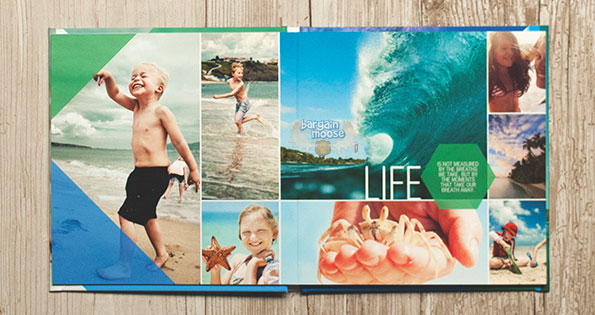 Create your very own photo book at Mixbook and use our Bargainmoose exclusive code to save 35% on a classic square photo book in either a soft or hard cover.
Create your photobook @ Mixbook.com now
Coupon Code: BARGAINMOOSEMB35
Discount: 35% off classic square photo books (8.5" x 8.5")
Expires: 31st August 2014
I once made a scrapbook and I have to admit that it was a massive failure. I'm not exactly the craftiest person and this was in a time when Pinterest hadn't been invented yet and so, it turned out quite mediocre. In hindsight, I should have instead created a photo book online but I didn't know how easy it was. Now, I haven't experimented with creating a photo book online yet either but I have been told by many friends and family members of how easy and quick the process is. You simply choose the pictures you want to include, pick a layout and voila! Okay, so there is a bit more to it but that is the general gist of it and I actually plan on redeeming this Bargainmoose exclusive myself to create a photo book as a gift to my hubby for his birthday, but shh don't tell him! ;)
Since most square photo books start $19.99 for a soft cover and from $29.99 for a hard cover, which means that with the exclusive, you're looking at $12.99 for the former and $19.49 for the latter. Both editions also come with 20 pages (10 sheets) and $0.50 for each additional page, or $0.33 with the code above for a maximum total of 399 pages.
There a number of themes to choose from, like everyday, travel, family, wedding, wedding guest book, and many others, but the one I will most likely be picking is the romance one and more specifically the "10 reasons why I love you" photo book. I will most definitely be going for the hard cover because I think it just looks and feels nicer. Plus, it would stand up on its own with more ease.
Since shipping varies depending on the size of the photo books, in this case, you would be looking at a $10.99 charge per book and $1.99 per each additional book. Be sure to also carefully proofread and edit your photo book because this services isn't provided by Mixbook. For more Mixbook coupon codes, be sure to keep an eye on the Bargainmoose forum as these are frequently released and added to it.