Lush Canada: Free Gift with Purchase In Store (Sept 25)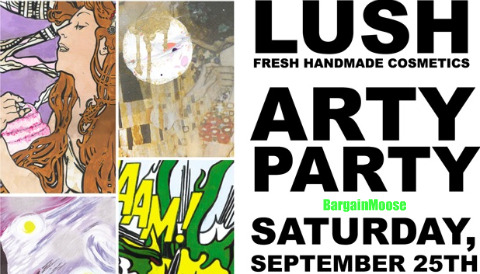 Lush is throwing an Artsy Party! They are turning bath bombs, into art, and it seriously looks great. This Saturday there is going to be a NATION WIDE Artsy Party in Lush stores across Canada!
Here are the Artsy Party and free gift with purchase details:
At LUSH we make bathing an art form. Join us at our Arty Party where we'll be showcasing 4 NEW Bath Bombs inspired by famous artists that will transform your bath into a masterpiece with a slower fizz, creamier texture and mesmerizing visual. Come check out our limited-edition bath tubes featuring the print of a famous artist - collect all 4 or receive one for free with the purchase of 3 new bath bombs! Everyone who's anyone will be there - see you then!
To sum up:
Buy 3 bath bombs - receive a free limited-edition printed tube.
What that blurb didn't mention is the other free gift with purchase:
Receive a Lush inspired art print with any purchase (while supplies last)
You can see some art prints in the banner above, or check out Lush's website for more pretty pictures!
So: check out Lush on Saturday, September 25, 2010! Buy something, and get a free gift!