Huggies Baby Care Gift Pack $29 & Free Shipping @ Amazon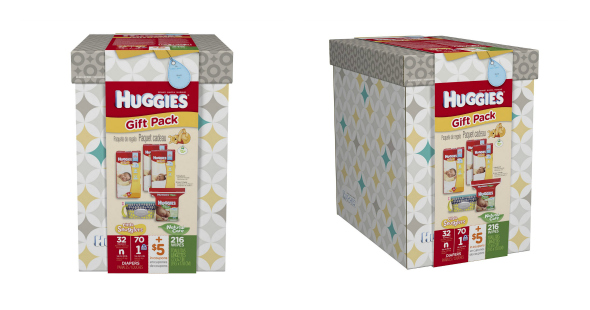 Whether you are stocking up because you're expecting or have a baby shower to attend, this Huggies Baby Care Gift Pack is a great buy. And, as it's just over Amazon's $25 minimum spend threshold, it will ship to you for free.
Click here to purchase the Huggies Baby Care Gift Pack @ Amazon now
This Huggies Baby Care Gift Pack contains:
32 Newborn diapers
70 Size 1 diapers
216 Huggies Natural Care wipes
Clutch 'N Clean carrying case for the wipes
$5 in coupons
Everything is packed together in a cute box that's ready for gift giving; no cumbersome wrapping required.
Having a few Newborn diapers and a bunch of Size 1 diapers together is a wonderful idea. They're often not in the Newborn size long enough to use an entire box but they will usually fit perfectly for the first week or two. If the baby end up being a bit larger, you're already covered with the next size up.
To give you an idea of the value of this gift set, one 70-count pack of Size 1 Huggies Little Snugglers is $29.97 itself. Everything else is essentially free! And you can rarely put a price on convenience when you're pregnant.
Now, I did notice Amazon has indicated a shipping time frame of 2 to 5 weeks. Often they get it to you much sooner but if you're in a rush and can't take the chance, Walmart sells this same Huggies Gift Pack for the same price, it just won't ship for free on its own. Walmart offers free delivery on orders over $50; or to a Canada Post outlet or Grab & Go locker with no minimum charge.
(Expires: Unknown)