eBay: Invicta Men's Watch for $79.99
This is a sweet deal from eBay Big Deals for a really nice men's watch, an Invicta I Force Military Black Watch 5755. From what I can find, the original retail price of this watch was $495 USD. Right now you can buy it on eBay for $79.99 CAN, free shipping, including the 1 year manufacturer's warranty. It is brand new.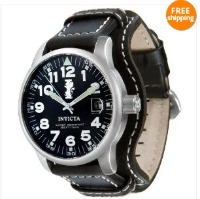 I did some price comparison and I found it on Amazon.com for $109.00, the closest I could come to this price. eBay is still selling it for $30 cheaper. This is around 84% off the original retail price. A wonderful gift for yourself, or a special man in your life.
I like the leather band on this (and the glowing pieces on the face). My father always had a well-haired wrist and I learned early that he highly preferred leather bands to chain ones, less hairs got caught in the process! Less caught hairs = less pain. :-D