eBay Deal: 9mm Pearl Necklace $16.99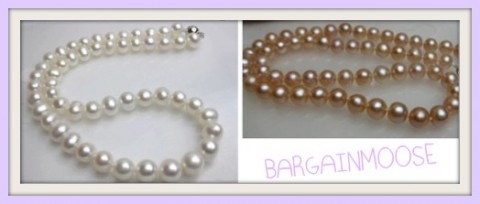 Save 93% on retail price on this beautiful pearl necklace for you or a loved one - only $16.99. The necklaces are made with genuine freshwater pearls that average in size from 7.5 - 8.5 mm and have an overall quality of AA. You can choose from three different colors: white, black, or pink. The clasp is gold plated.
These necklaces are located in Vancouver, BC so there is no fear of duty and all funds are in CAN. Pearls are very classy and though some see them as old fashioned I think they are beautiful.
My little story. 4 years ago I purchased a 11mm pearl necklace on eBay and when I got it appraised at a jewellers it was appraised at $500+. I was very happy. Sometimes it feels risky to purchase things online so I like to get some things checked out, and so far I have been more than satisfied.