eBay Canada: 7.5mm Pearl Bracelet $10 (Save $30)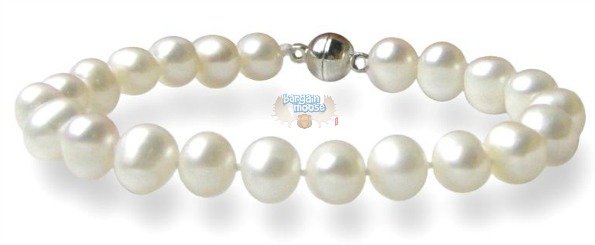 A seller on eBay Canada has a great deal on 7.5mm white freshwater pearl bracelets. Valued at around $40, they are being sold for $9.98 US (which roughly translates over to $10.90). Even though the price is in USD don't fear; these bracelets ship from Vancouver.
There are three things that really attracted me to this deal:
You get a freshwater pearl bracelet for around $10
You get absolutely free shipping
The product ships from within Canada, so there are no duty or customs charges
The bracelet is approximately 6.5 - 7" in length with a gold plated clasp. The pearls are freshwater with an off round shape and are 7 - 7.5 mm in size. They are white with 100% nacre, moderate luster, and some natural flaws on the surface. They rank about an AA- in quality.
These make lovely gifts and look far more expensive than you are getting them for. If you are on a real budget after the holidays, this makes a fantastic gift idea for Valentine's Day coming up.
(Expiry: unknown)