Deposit Photos Canada: 20% Off All St. Patrick's Day Images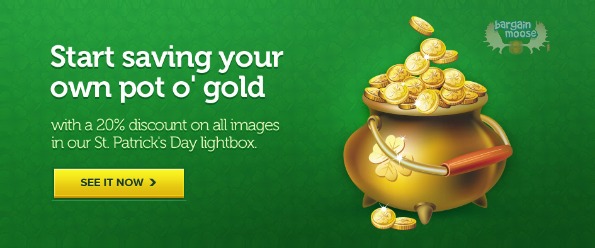 Deposit Photos Canada has every image you can think of with royalty-free stock photos, illustrations and Vector images. Bargainmoose has a number of coupon codes in the forum for deals on Deposit Photos, but right now the best deal is 20% off all St. Patrick's Day images with no coupon code required. Try using the coupon codes on top of this sale to make this deal even better.
St. Patrick's Day is fast approaching and you can get a pot of gold at the end of the rainbow by getting 20% off images to use on your blog or website.
Images of green beer, pots of gold, leprechauns and Irish people enjoying pints abound on Deposit Photos site.
You can buy stock images individually or get a subscription with differing amounts of photos available to you each day. Pay-as-you-go credits allows you to pay for a certain amount of credits (50 for $50 and the cost goes down the more credits you buy). Stock images start at $0.50. Everything is easily downloadable.
Check their blog for inspiration!
(Expiry: 17th March 2013)