Deal Ticker Canada: $24 For An 18K Gold Plated Evil Eye Austrian Swarovski Necklace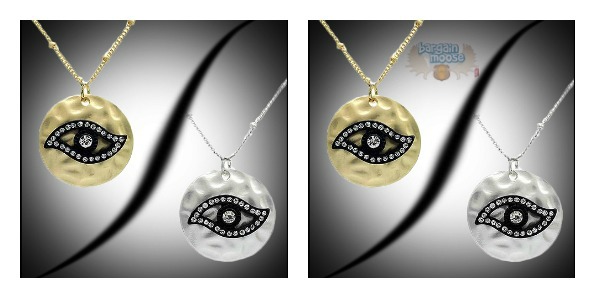 Deal Ticker Canada has an 18K Gold Plated Evil Eye Austrian Swarovski Necklace for $24, taxes and shipping included. You can purchase an unlimited amount of vouchers for personal use or gifts and they do not expire. Choose from 2 colours. This cannot be combined with other offers or promotions. Deal will end on January 29th 2013.
So, I've just been hurled back into the 70's with this necklace. I remember items like this were everywhere, with peace signs, happy faces, you name it. They were all very much the same style, although I don't recall the "evil eye", but it is quite attractive.
If you're looking for a piece of retro jewellery, this has got you covered. With the funky jeans that are coming back, with peace signs and such, this would compliment them nicely.
The necklace is a large round gold plate with a dimpled effect (like a golf ball), a black Evil Eye lined with the Swarovski crystal elements and comes on a fine chain with small gold beading. It's 18K gold plated and you can choose from white gold plated or yellow gold plated.
I may just want to get one of these and dig out my bell bottoms and my lime green/mustard sweaters.
Shipping: Included
(Expiry: 29th January 2013)