Davids Tea: 40% off Tea & Free Tea with $75 Purchase ($15 Value)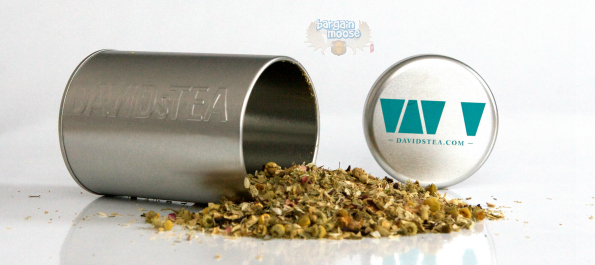 Enjoy 40% off select loose tea and tea sachets at Davids Tea right now. Also, when you spend $75 or more (before discount), you will receive a free tin of Cocomint Cream Tea worth $15.
While I love loose-leaf tea, it is rather inconvenient for travel or mornings where I am in a rush. Introducing tea sachets - or rather tins full of tea sachets ready for you to grab and go. An appropriate portion of tea is encased in each sachet for optimal tea brewing. Grab one, stick it in your hot water, and you are ready to go! There are four tea sachet tins on sale right now. All tea sachet tins originally cost $9.50, and are now on sale for $5.70.
Each tin has a different quantity of tea sachets in it. The Snickerdoodle provides the best value per sachet with 20 sachets. At only $5.70 for the sachet tin, you are paying just $0.28 (28 cents) per tea if you buy the Snickerdoodle. That price per tea bag assumes the tin is free.
For the loose-leaf fans, there are plenty of teas to choose from. The sale loose-leaf teas are sold in bulk: 250 g a package. Chai on Life is a nice warm white tea with all the traditional spices of a chai. 250 g retails for $52.50, but after discount, you will only pay $31.50.
Out of the loose leaf teas on sale, my favourite is Sleigh Ride. It is a yummy holiday themed tea with apple, hibiscus, pineapple, cinnamon, and my favourite ingredient - popcorn. Originally $37.50 for 250 g, the tea comes down to $22.50 after the discount is applied in your cart.
Now, the beauty of this deal is your cart must total $75 before discount. See my cart below: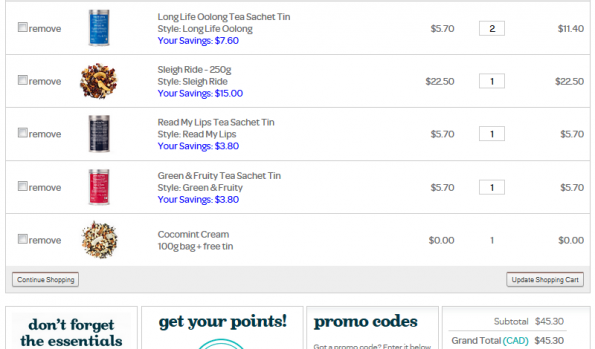 As you can see, the free Cocomint Cream 100g bag and free tin (worth $15) are automatically added to my cart because my before discount total is $75. After discount, I am only paying $45.30 for a huge amount of tea with $15 worth for free. This is an extraordinary offer from Davids Tea and I really hope you take advantage of it. I just wished I actually liked Cocomint Cream tea - I might just have to give that away to a friend or family member.
Receive free shipping on all orders of $50 or more.
(Expiry: 5th February 2015)