Cineplex Canada: Free Ticket with Visa Checkout Ticket Purchase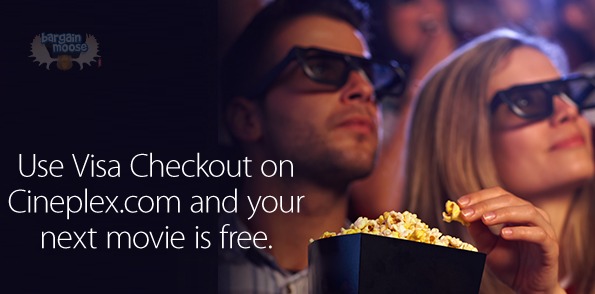 Cineplex Canada has teamed up with Visa to offer you a great deal. Purchase a movie ticket via Visa Checkout and you will receive a voucher for one free general admission ticket.
This is how it works my movie loving Moosers:
Pick a movie you wish to see and select the ticket(s)
Choose Visa Checkout as your checkout option (and pay with Visa)
Sign up via the 'create account' button
Complete your purchase
After you have completed your movie ticket purchase, you will be emailed a voucher code valid towards a Free General Admission ticket. You can also use the code for a senior or child admission. There is a limit of one voucher code per transaction no matter the number of tickets you purchase.
These are unique codes and can only be used once - through this link right here. The coupon code cannot be used for midnight showings, Front Row Centre Events, or alternative programming (like the ballet or opera). The free General Admission promo codes will be sent out while quantities last. However, this promotion just started on the fourth so there should be plenty left. You have until the 3rd of August, 2015 to use the voucher.
The promo code with be on the last page of the PDF file that Cineplex sends you when you buy your ticket - do not delete it! If you need two tickets for a movie, then I suggest buying them one at a time. Buy one ticket first. Then use the unique promo code to buy your second ticket for the same movie. This is the best way to get Scene points anyway. If you buy your movie tickets this way, then this is essentially a BOGO free offer.
This offer is limited to once per person/account. Since we have two Visa cards in my household, I could take advantage of this offer and my partner could create his own account to get the deal as well. While we tend to go on Tuesdays, for the cheap movies, this offer could still save us several dollars.
Note: Rumour has it that when you upgrade the Free General Admission ticket, and pay the difference, that Cineplex generates a new voucher. I cannot confirm this as I have not bought any tickets yet, but this sounds like a sweet bonus. That would be one full price ticket, one ticket for the cost of the upgrade, and then another free General Admission ticket.
Hey Moosers, what movie are you going to buy tickets for? I am considering the new Fast & Furious movie... Furious 7.
(Expiry: 3rd May 2015)