Chapters Indigo: Free LEGO T-Shirt with $50 LEGO Purchase

Do you have a little LEGO fan in your house? When you spend $50 or more on LEGO play sets at Chapters Indigo Canada this week, you will receive a free LEGO Master Builder t-shirt valued at $9.95.
The shirts are 'available' in three sizes and you need to choose one and then added it to your cart. The shirt is not automatically added. Once you add $50 worth of LEGO sets to your cart, the price of the shirt will be discounted from your total. The shirts come in Size 4, Size 5/6, and Size 7 (OOS - watch for restock).
My favourite LEGO play set is basic and a true classic. Every kid and adult LEGO lover should own the LEGO Large Creative Brick Box that retails for $59.95. This set comes with 790 pieces of LEGO including windows, wheels, doors, and more. The blocks come in 33 different colours so your child can be their own Picasso with blocks. I love this set as it lets your child be the engineer, the builder, and the architect rather than just build a predesigned model.
I added the above creative brick box to my cart and a size 5/6 shirt as well. Here is how the discount looks in your cart: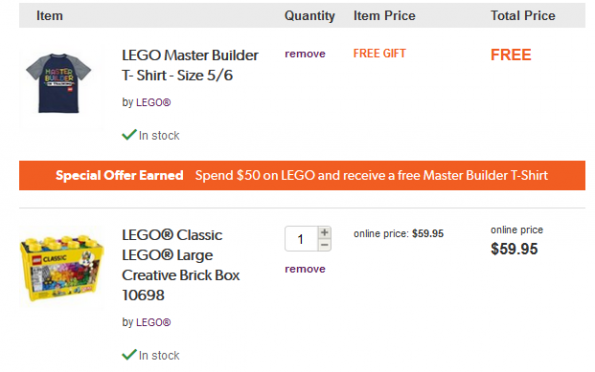 If you have younger children, then you can purchase DUPLO by LEGO. DUPLO blocks are designed for younger fingers. They are larger blocks and have smoother edges. The blocks are easier to pull apart as well. The LEGO DUPLO All-in-One-Box-of-Fun is the younger child equivalent to the LEGO blocks. The box costs $34.95, so purchase it with another set to receive the free t-shirt. The DUPLO set is made of 65 pieces including windows, a dog, numbered bricks, and a boy DUPLO figure.  Purchase this box of DUPLO blocks to encourage your child's creativity.
The promotion does not expire for just over 10 days, but quantities are limited. The size 7 shirt is already OOS and I am hoping for a restock but that might not occur. Given that one shirt is already out of stock, I assume this is a pretty popular offer and the others might follow suit pretty soon.
With this offer you will qualify for free shipping as the required $50 minimum exceeds the $25 minimum required for free shipping. Remember - not every LEGO item qualifies for free shipping. Items that are too heavy or too large will cost to ship.
(Expiry: 27th February 2015)