Buy 3 Select TV Series on DVD & Get Extra $10 Off @ Amazon.ca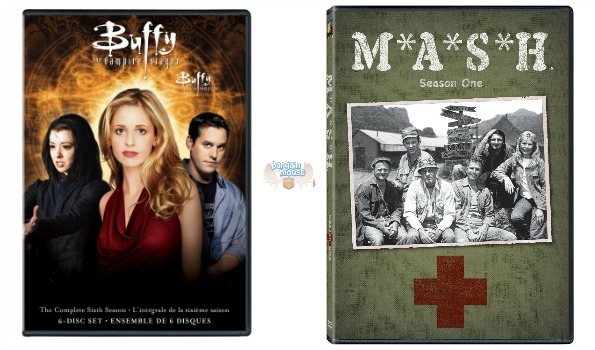 Here is a sweet little deal where you can pick up a couple of great classic TV series. Amazon is offering an extra $10 off when you purchase 3 select TV series on DVDs. Free shipping is available on orders over $25 and it's likely your order can easily reach that total depending on the series you choose.
Snatch up some of your favourite TV series while they are hot, folks. I can see some of these DVD sets making great Valentine's Day presents. The selection of these DVDs seems to be a mix of classic TVv shows and more modern sci-fi, and favourite TV series from the last 20 years or so. The good news is there are some great series to be snatched up here and the prices are low to begin with, averaging between $8 to $10 per season.
Some of the more modern series available include:
Firefly
24
Archer
Prison Break
White Color
Burn Notice
How I Met Your Mother
Futurama
The X Files
Buffy
Angel
Stargate SG-1
Lie To Me
American Dad
Malcom In The Middle
Planet of The Apes
Saving Grace
It's Always Sunny in Philadelphia
Also included in the list are some classic shows including:
Green Acres
Mash
Remington Steel
The Mary Tyler Moore Show
You can really see a clear divide between two different TV eras, looking at that list. The good news is you can mix and match to get a taste of both if you have a foot in each camp.
I have to admit I am partial to a couple on this list. My hubby and I worked our way through Buffy from beginning to end, while we were still dating. The series writing is written really well. Buffy is witty and has lots of action. It is hard not to cheer on a kick-butt chick, fighting zombies while trying to maintain some semblance of a life in high school in the 90s. I could see easily snagging Buffy again to watch from beginning to end. Once you get hooked you may be craving more and it is a great time to pick up the spinoff/crossover series Angel also.
There are many great quotable lines including one of my favorites:
If the apocalypse comes, beep me. – Buffy
If you are in the mood for a great comedy do not overlook How I Met Your Mother. Those syndicated reruns will not be playing forever folks! My favourite thing about this series is it really is a series that you can pick up in the middle and still enjoy episode by episode, with lots of laughs. If you watch this series from beginning to end, you will catch more of the complexity of the story the writers add between the laughs. At its core, this series is a comedy that is a great to unwind to at the end of a long day. It will not take long before you are cheering for Ted, Robin, Lily, Marshal and even Barney and wishing you had a spot at their table at the bar as they navigate life in their 20s and 30s.
If you see many series on the list you like, I would recommend creating more than one order. For every 3 series you purchase, you can receive $10 off. So if you want to score all 11 seasons of MASH for example, you may want to split it up into multiple orders to save more. Here's an example, to show you what we mean: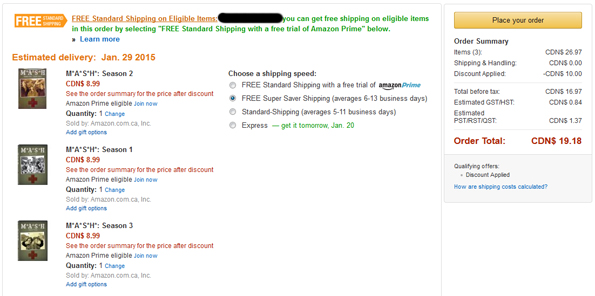 The first three seasons of MASH come to around $27. But as you can see above, it totals $16.97 AND you get free shipping as well, as the pre-discounted price was above $25. Sweet!
Bargainmoosers, what is one of your favourite series on this list?
(Expiry: Unknown)