Boxing Day Is Here! Check Out the Steals @ Amazon.ca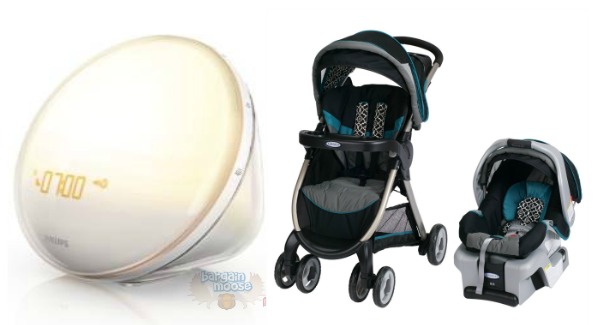 The holiday feast still needs time to cook and the dishes are not yet cleaned and dried.  I am more excited to see what Amazon.ca has in store for me this year. We have all the details for Boxing Week deals so check it out!
Check out the Hitachi Hand Held Blower now only $131.99 from $318. This is a powerful gas blower for snow or leaves that is carb compliant. It is lightweight with a commercial grade engine. This blower is sold at the competition for around $160 and up, but you can grab it here for less. The 40 or so reviewers are all raving about its power and lightweight design. I would ditch the rake or the shovel for lightweight snow and grab this instead. This one is a lightning deal so if you want it, do not wait too long.
The deal of the day is the Philips Wake-Up Light Coloured Sunrise Simulation now $107.99. This natural waking system normally retails for $179. Reviewers are over the moon about how much easier it is to get out of bed. I'm not a morning person so perhaps this one should go in my cart too.
Here is a great find if you have a small dog. Check out this PetSafe Little Dog In-Ground Fence System now $165 was $279. This system normally retails for $279 and at the majority of competitors, you will find it for closer to $300. I like that this set includes 4 levels of training including a warning and training option. This solution protects your furry friend but will not be chewed apart or dug under like my neighbor's dog decided to do. That dog ruined my cherry tomato plants for half the summer!
If you have kids or know anyone with kids, the gear can get pricey. Here is a great deal on the Graco FastAction Fold Classic Connect Travel System Orlando now $167.99 was $279. You will save 40% on this stylish travel system combo that includes both the stroller and bucket car seat. This price blows the competition out of the water, as most places it is $300. The stroller is for a child up to 50 pounds and the carseat is for a baby who is 4-30 pounds. I think one of the perks of this stroller is it folds quickly and fit in small spaces. One reviewer loved how it glided and went in and out of the car quickly and easily. Another reviewer who was using it more on city streets was less impressed saying that the ride was bumpier then she hoped due to the smaller wheels. You may want to consider where you will be pushing this stroller the most before you purchase.
Here is the perfect gift for a movie lover.  Check out this blu-ray collection the Fox Searchlight Pictures: 20th Anniversary Collection. This collection of some of Hollywood's most critically acclaimed movies is now $87 was $299. This set of 20 films includes many good award-winning flicks such as Slumdog Millionaire, Black Swan and 12 Years a slave. The set is retailing elsewhere for about $110 and you will easily pay $15-$30 per film. This deal is good for today only.
They are always adding new deals at Amazon, so check back repeatedly. Right now, they are tempting me back with some additional deals on dog supplies and luggage that are not starting until 3am and I do not doubt there will be much more as the sales continue.
(Expiry: Unknown)