Body Candy (US) Coupon Code: 20% Discount & Clearance Sale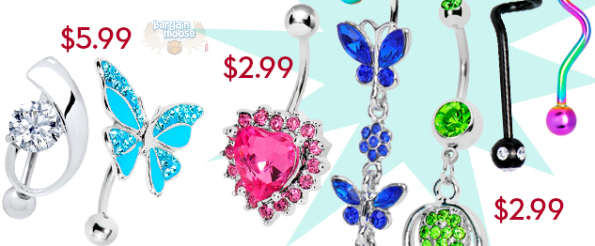 Body Candy regularly offers 15% off coupon codes, so 20% off is a special treat for anyone with piercings. Enjoy a myriad of jewellery from toe rings to earrings to belly rings.
Click here to shop jewelry @ Body Candy now
Coupon Code: legit
Discount: 20% off
Expiry: 28th July 2014
This coupon comes at such a sweet time because Body Candy is hosting a clearance sale with jewellery starting at just 49 cents apiece! Are you stretching out some holes in your ears? Pick up this adorable little 6 Gauge Alien Encounter Acrylic Saddle Plug for $0.49 before coupon, only $0.39 after. These are sold individually, so you will want two for a pair. Still, a pair will cost you less than a dollar, which really does not hurt your budget any.
Now, you could completely load up on less than 50-cent body jewellery, and I really encourage you to do so, but there are other treasures out there as well. This SQUARE GEM Drop Blue Austrian CRYSTAL Dangle Belly Ring retails for $44.99, but is on clearance for $8.99. After coupon code, this lovely little sparkly accessory comes down to $7.19. You can also get this ring in pink or in green to match different outfits.
If you do not have any piercings but are into fun jewellery at a low price, then have a ball in the necklace section. This Artisan Funhouse Coiled Choker Necklace retails for $24.99 and is on sale for $1.99. After coupon, pay only $1.59. The necklace features a glass bead with a metal coil wrapped around it. It reminds me of a misshapen marble caught in a spring.
There are so many inexpensive options for body jewellery at Body Candy that I really cannot even count them. I also cannot recommend them enough. I have bought from them before and their quality is equal to what I would find in my local stores for often ten times the price. With Body Candy, I paid a fraction of the price at my local piercing places or local body jewellery kiosks in the malls and yet it was all the same quality. I have been very happy with my purchases from them so far.
All prices are in USD. Orders of $19.99 or more ship for free to Canada. If you are looking for more Body Candy coupons, you will find them posted on the Bargainmoose coupon forum. As it ships from the U.S., you may encounter duties and fees.