Black & Decker WM125 Workmate 125 Portable Work Bench Was $62 Now $20 @ Lowes & Free Shipping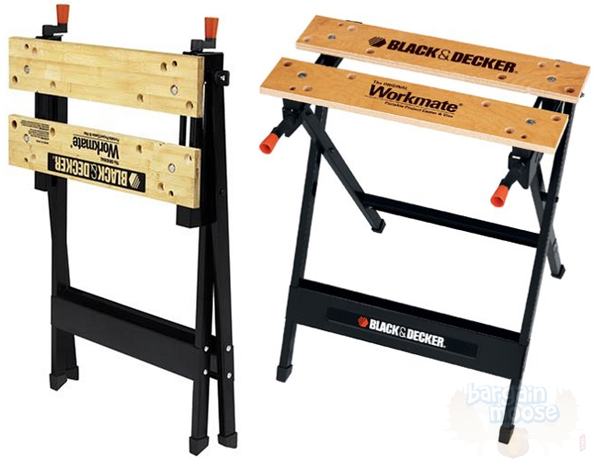 Here's one for the handy DIY-loving Moosers. Lowes.ca is currently selling the Black & Decker WM125 Workmate 125 Portable Work Bench with 350-Pound Capacity at a discount – originally priced at $59.99, you can now get it for only $19.99 with free parcel shipping.
Let's run a bit of a price comparison and see if we can see this Black & Decker WM125 work bench for sale anywhere else. I spotted it for $30 @ Masoncroft, $40 @ Newark, and also from a few eBay sellers, but nowhere major seems to be selling this exact model of work bench. The Lowes price is a 68% discount on the original price and it seems very reasonable indeed. I did spot it for $20 @ Amazon originally, but you'd pay shipping on that as it is under the $25 minimum.
The Black & Decker WM125 Workmate bench is a great little device; we have a very similar one to this in our very own garage. I just popped out to the garage and ours is actually the Black & Decker Workmate PLUS, so a slightly higher model than this one. It performs a very similar function though.
We were actually making use of the work bench last week, and I am glad we had it. For a Christmas gift, we constructed a "sensory board" for my autistic nephew. We bought a cheap piece of wood (it was actually a cupboard door from Ikea), and covered it in all sort of sensory toys, fabrics, bits and bobs. My partner helped me by doing the drilling and fixing the items to the board. To finish it off, I covered it in coloured paint and stickers, making it look fantastic – and my nephew loves it. Using the Black & Decker workbench was excellent – we were able to do the drilling and fixing with ease.
Another thing I like about our work bench is that it folds flat and hangs up on the garage wall – we're not tripping over it every day. It's just folded up and put away after use. If you or your partner does quite a bit of DIY in the home, these work benches are a great addition to your work tools.
(Expiry: unknown)