Banana Republic Canada Promo Code: 40% Off 2 Regularly-Priced Items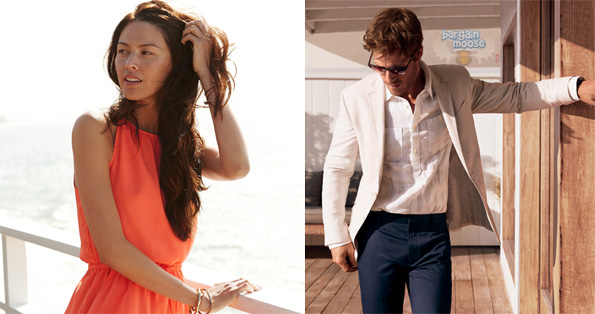 Don't miss your chance to get 40% off the purchase of two regularly-priced items at Banana Republic during the next couple of days!
Click here to shop @ BananaRepublic.ca now
Coupon Code: BRCSAVE40
Discount: 40% off 2 regularly-priced styles
Expiry: 11th June 2014
Shirts, shorts and pants are all great but dresses in the summer are even better. So my challenge to you Moosers is to step out of your comfort zone this summer and shop for a dress if you don't already have one or better yet, if you never wear any. Do you wear dresses? Be sure to share with us in the comments section your stance on them!
To be honest, I'm going to have to take myself up on the challenge as well as dresses just aren't part of my everyday wear but the chevron-stripe maxi dress, which comes down to $80.40 (reg. $134) has certainly caught my eye since I have been particularly obsessed with chevron patterns lately. The only downside is that it's only available in a large of extra large, but there are a number of other Maxi dresses to choose from as well such as the grey knit patio dress, which would be my other pick.
In a way, my Dad is easy to shop for as he loves clothes but every year, I end up shopping last minute on the Saturday before the big day (or sometimes even on Sunday morning... oups!) and at that point, it becomes very hard to find a good deal. With Banana Republic's promotion though, you could take advantage of the code to get two classic-fit shirts for just $57 each ($114 in total) instead of their regular price of $95 each. The best part about these shirts is that they require no ironing as for the most part, they will come out of the wash wrinkle-free.
Although you can find the full list by clicking on the "40% off" at the top of their site, keep in mind that all of the usual exceptions apply, such as: BR Picks, BR monogram collection, cashmere, leather, etc.
Shipping is free on all orders over $50. If something catches your eye from the sale section, then make sure to use the Banana Republic coupon code BREXTRA30 to save an additional 30% off instead, but keep in mind that this code may not be stacked with the one mentioned above.