Artscow Coupon Code: 10 Free Photo Books! (Pay Shipping)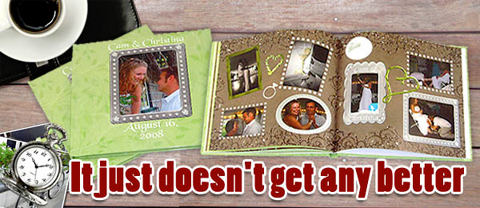 I've blogged about Artscow a few times in the past, as they seem to have excellent deals on digital photos and digitally printed gifts. They are actually a company based in Hong Kong, but they ship worldwide. I've bought from them a few times myself, and they are pretty good quality. Shipping can be a little bit slow, but they are great deals so it's worth the wait. Here is the latest deal from Artscow - 10 free digital photo books!
Click here to use the Artscow coupon code online
Coupon Code: 8X8SEP2009
Deal: 10 Free 8x8 photo books
Expires: 30th September 2009
Without the discount code, the cost of the photo books is $147.40! From the looks of it, you just have to pay for shipping - that's the only catch! I tried it with all 10 free photo book in my cart, and the shipping was just under $100. That seems steep, but when you think about it, that's only $10 per photo book. If you need to make a bulk order, then you're probably going to be paying more than that per book anyway. You can of course order the books in single purchases too.
I thought it would be a good dea if there was a particulr event you wanted to share with a few close friends or family members. For example, if you've been to a recent party or wedding, you could make a quick photo book collage for people who attended.
Terms and Conditions
1. Artscow.com reserves all rights to interpret, alter and terminate this promotion.
2. Unique coupon codes are for 20 pages photo book only (ProductID: 317).
3. Shipping fees are not included.
4. Redeem the Gift Certificate by login ArtsCow.com, go to "Members Area"-> "Credit & Discount", enter the Gift Certificate and click "Validate".
5. Login your account, to check your FREE photo book credits at "Credit & Discount" section.
Thanks for the deal Anam!