Amazon Tool Sale Today Only: Hitachi 3/8" Cordless Drill/Driver Kit Was $234 Now $50 (EXPIRED)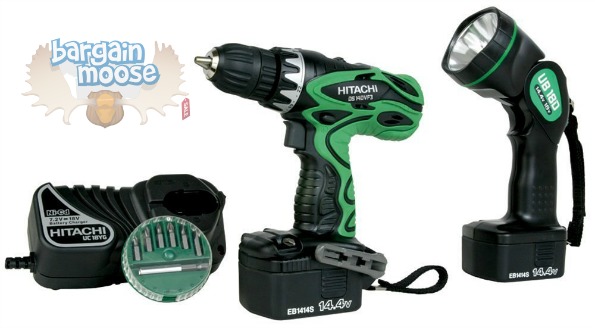 Check out the Hitachi 3/8- Inch cordless drill and driver kit. This combo pack was $234 and is now only $50. This drill qualifies for Amazon's free shipping which makes it quite the steal.
If you missed my post the other day on the now expired Porter Cable cordless drill set from Amazon, you are in luck as I have another great tool offer for you.  Today only Amazon is offering the Hiatachi 3/8 Cordless Drill/Driver Kit for only $50. This set only includes one power drill unlike the Porter Cable set I reviewed the other day but is also half the price.
The kit comes with an impressive amount of swag for the price. It includes:
14.4 volt 3/8 Inch Cordless Drill/Driver with two speed choices
A set of bits with holder
2 batteries
A charger that claims to charge in 35 minutes
Free standing flashlight
This is a nice little kit for any home user with a lot of extras. This drill is quick charging and includes an extra battery. It has a place to hold all those bits on your belt and a flashlight to ensure you can see what you are doing. From comparing this drill across the market it is also on the lighter side.
You might be curious how my father-in law who enjoys the Porter Cable drills would rate this drill. He tends to do bigger renovation projects that are a little more intensive. (Remember he makes log cabin rooms?) A drill set like this would not really be for him as he needs something with a bit more power. He does use Hiatachi brand tools though in his toolbox. If you were looking for a drill for smaller home repair and renovation projects this would be a good option. If you are tearing walls out down to the studs, you may want to keep looking a bit for something with a little more power.
Lowes.ca is carrying this same drill kit but you will pay much more. This drill and driver kit runs $148 at Lowe.ca. Walmart.ca is also carrying this set priced at $103. Your best bet is to grab this one on Amazon today.
Canadian reviewers seem to be enjoying this set, especially this person below.
This set comes with a flashlight that can stand on its own (very helpful when doing plumbing under the sink alone), the 14V drill, two quick charge batteries, charger, a small set of screw bits. VERY important: this drill comes with 2 Ni-Cad batteries that over time will lose their power... Very pleased with my purchase: I recently installed a garburator, new sink taps with this baby and it was smooth!
I can see this being a nice little set to give someone as a gift. Maybe they are in their first home or apartment and need a drill. On the other hand, maybe you need a replacement for your home drill for lighter work this set should do the job.
If you are looking for other types of tools, Amazon does have some other great Hitachi and Dewalt Tools on deep discount today in the lightning deals such as a staple gun, rotary hammer and router. If you do home projects it is worth an extra look at the lightning deals today.
Bargainmoosers what do you want from your tools? Do you need more power to tackle big projects or handy tools to get the smaller projects done?
(Expiry: 30th December, 2014)