Amazon Canada: Harry Potter Hogwarts Collection Was $293| Now $77 (EXPIRED)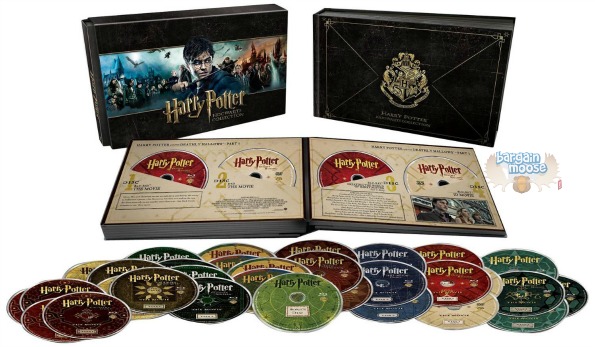 Consider this your personal owl mail. The ultimate Hogwarts Collection that includes Blu-Ray, Dvd and Ultraviolet is 74% off. You pay $77 and it includes free shipping. This collector set was $293. Amazon is giving us a treat just in time for Christmas and Boxing Day.
This collection is massive  for all of you Harry Potter fans. This comprehensive 31-disk set includes all eight Harry Potter movies in blu-ray, DVD and ultraviolet format. You can immersive yourself in the Harry Potter world with over 37 hours of special features. That's a day and a half straight of special features if you were to watch them back to back. That does not include the time to watch the films in a true movie marathon folks.
Included also is the Creating the World of Harry Potter documentary. This is an 8 part series that is a comprehensive look at almost every detail in the films.
The movies are fantastic to own to watch over again and you can with this set. This collection is really all about the special features. It gives Harry Potter fans more insights into the making of the films and an outlet to immersive themselves in all of the amazing details. In reality though I personally feel the storyline is fantastic but it is the details of the Harry Potter world that truly make it magical. They did forget to tell us what Daniel Radcliffe ate every day between takes while the movies were filming so you might perhaps be disappointed if you wanted that level of detail. Seriously it is a detailed special edition.
Fans of the movies and books alike are digging this intensive set and are talking about it. 72 people have taken time out of their day to tell us what they think and it is still at almost 5 stars. Here is one of the best reviews.
This was exactly what I was looking for! I'm a huge fan of the Harry Potter Saga both the books and the movies. I was really interested in how the movies were made and seeing interviews with the cast. This package certainly doesn't disappoint with hours of back stage stuff from the making of the movie sets, filming scenes and interviews with the cast. Awesome! Highly recommend this collection!
Looking at the competition, no one else really comes close to this amazing deal.
$125 @ Costco.ca
$149 @ Futureshop
$149 @ BestBuy.ca
$181 @ Walmart.ca
Be sure to check out more great Amazon.ca Boxing Day deals. If you are digging this deal, you may want to snap it up as I suspect it may go quick.
(Expiry: 25th December 2014)