Amazon Canada: Get $5 Off Your $20 Spend On Chuggington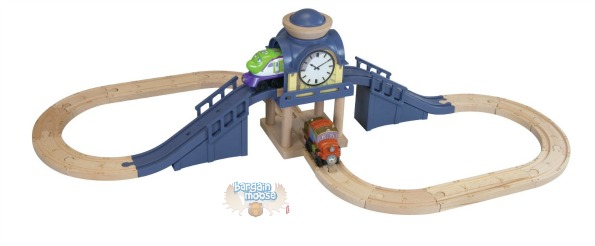 Spend $20 on Chuggington trains and accessories and get $5 off at Amazon.
If you've got a toddler, chances are they love trains. All of my toddlers loved trains like Thomas and Chuggington. A train table was one of the first large toy purchases we bought and it is still going strong five years later. Even my older kids still play with it and like creating new tracks. My toddler likes to destroy those tracks, but does love playing with the trains on the table (before he destroys the tracks).
While this 32-piece Chuggington roundhouse wooden train set is not technically on sale, when I price compared the entire set on other sites, the $120 price tag was still a deal. Plus, add the $5 off and you'll get it for $115. It is also compatible with Thomas trains and sets, which is a total bonus if you already have bits and pieces of those sets.
If you already have a set that you would like to add to, consider the fuel depot, which has pull levers so you can watch the water rise and fall, showing cause and effect. Was $29.99, now $24.99.
If you just want to add some trains, which I find are great stocking stuffers (yes, I went there in August), check out the musical car and Zephie, both $9.99, but you'll pay only $15 for both.
Shipping is free when you spend over $25.
(Expiry: 6th September 2013)