Amazon Canada: A Game Of Thrones 4-Book Boxed Set $21.98, The Hunger Games Trilogy Box Set $37.60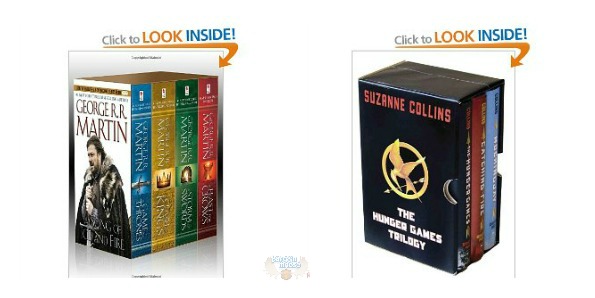 Amazon Canada has a sale on the box sets of books for George R. R. Martin's A Game of Thrones (4-book set) and Suzanne Collin's The Hunger Games Trilogy Box set in hardcover.  Sale is for a limited time only while supplies last.
A Game of Thrones 4-box set is paperback and includes: A Game of Thrones, A Clash of Kings, A Storm of Swords and A Feast for Crows.  This is quite the popular modern epic fantasy and has become the HBO miniseries "Game of Thrones".  Anyone that loves stories of historical fiction set in the age of knights and chivalry will love this set.  The regular listed price for these was $43.96 and they're now only $21.98.
The Hunger Games Trilogy Box set in hardcover was listed at $59.97 and is now only $37.60.  This set includes The Hunger Games, Catching Fire and Mockingjay, the complete bestseller set by Suzanne Collins.  I have to admit that I have not read these books, although I did see the movie version of The Hunger Games and I thought it was amazing.  I am looking forward to reading the complete set myself.
I know of many younger people that would love to have either one of these sets and they would both make an excellent Christmas present for the readers on your list.
Shipping: Free with orders of $25 or more, overnight or 2 day shipping available.
(Expiry: Limited time only)