Amazon Canada: 67% Off Saw Movie Pack (+ Up To 70% Off Other Movie Packs)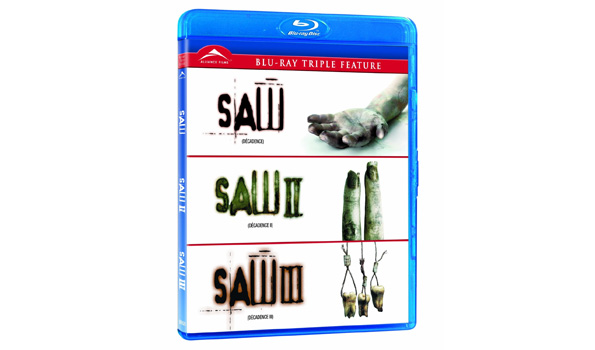 Are you a Saw fan? Then make sure to grab the Saw pack at Amazon right now because for a limited time, you can get a pack of Saw I, Saw II and Saw III for just $10.49. This Blu-ray edition is ordinarily priced at $31.99, which means you will be saving 67% off!
But since Saw definitely isn't for everyone's tastes, be sure to also have a look at the other movie packs currently on sale, such as the following, although there are more:
With The Expendables 3 coming out in August 2014, now would definitely be a fantastic opportunity to re-watch (or maybe even watch for the first time) the first two The Expendables movies as both are available in a pack for just $15.49 instead of $24.99. I have seen both and must admit that although the movies are cheesy in a way, they are nevertheless amusing to watch, especially with all the big name actors such as: Sylvester Stallone, Jason Statham, Jet Li, Arnold Schwarzenegger and yes, even Chuck Norris. In fact, the third instalment will even feature new additions to the cast like Wesley Snipes. Antonio Banderas, Mel Gibson and many others!
The Romantic Comedies movie pack from the list above is definitely another great pick since each movie comes up to just $1.92. The pack includes: Mr. Wrong, Born Yesterday, Two Much, The Gun in Betty Lou's Handbag, Gross Anatomy and Betty's Wedding.
Some of the movie packs currently on sale are only available in limited quantities, so be sure to order quick. As usual, shipping is free on orders over $25.
Moosers, we would love to hear from you! What are you favourite movies?
(Expiry: Unknown)