Amazon Canada: $35 Off Disney Infinity Starter Packs (Wii U, PS3, Xbox 360) - $39.99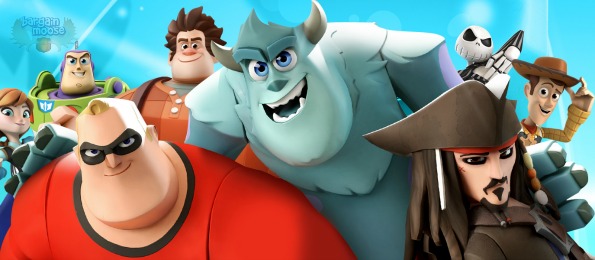 For anyone still enjoying their older consoles, pick up the Disney Infinity Starter Packs (original) for the Wii U, PS3, or Xbox 360 on sale for just $39.99 each, originally $74.99.
Okay, so the prices actually vary a tiny bit but the most expensive game is $39.99 right now. Here is what you can buy these fun little games for:
Each box comes with three characters: Mr. Incredible, Jack Sparrow, and Sulley and three play sets: Monsters University, Pirates of the Caribbean, and The Incredibles. I have to say I really like this play set because it includes two of my favourite characters - Jack and Mr. Incredible. I was never a Monster's Inc fan but my husband is so we would probably rather enjoy this set together. Jack, what can I say about him? I absolutely adore the character and I think they did a good job rendering him in animation style. Unlike the other two characters, he is not originally animated so I think that is extra special.
Now, I price compared these original Disney Infinity Starter Packs with other stores. Here is what they currently sell for elsewhere:
$49.95 @ Future Shop Canada (PS3, Wii U OOS)
$49.95 @ Best Buy Canada (only Wii U)
$74.95 @ Chapters Canada
$74.96 @ Walmart Canada (in-store)
$74.99 @ Toys R Us Canada
While I could find some decent sale prices at Future Shop and best Buy Canada, Amazon's price is still better. In addition, Amazon Canada is the only store that has the Xbox 360 version on sale as the twins did not have that version on their website.
This has constantly been one of those games I have been tempted to buy. I would love to hear an adult's perspective on the game though. Most the reviews on the game tend to be from adults who bought it for kids:
The game was my 8 year old gift, but it has lure his older brother to play with him which I think is great. It is Disney, so the characters were extremely familiar to him and he is enjoying the different aspects of the game. Highly recommended!
Do not forget that Amazon Canada has also discounted the Disney Infinity 2.0 Marvel Super Heroes Starter Pack for the Xbox One to just $39.99 as well. All the other consoles cost loads more.
Receive free shipping with your order as it costs over $25.
(Expiry: unknown)