Amazon.ca: The Walking Dead Seasons 1-3 Blu-Ray Box Set + FREE T-Shirt - Now $40 & Free Shipping (Lowest Price Ever!) *BUMP!*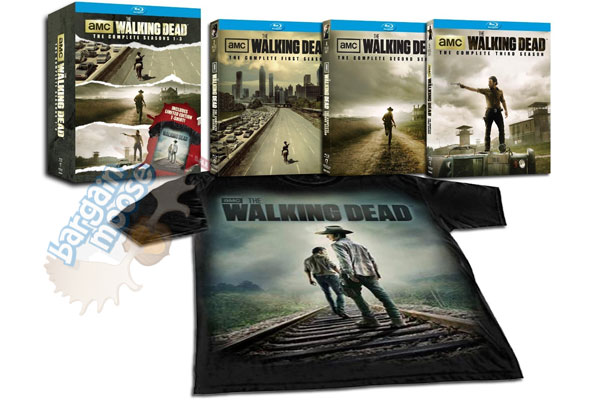 UPDATE: I wrote about this deal a couple of weeks ago but it's now even cheaper! Right now, you can get The Walking Dead Seasons 1-3 for just $39.99, which is $6 less than what it was before and is essentially a 75% discount from its original price. Get it while you can!
Have you been meaning to find out what exactly all the hype is surrounding The Walking Dead show? Here's your chance: right now at Amazon, you can get a seasons 1-3 Blu-Ray box set of this incredible show on sale for just $45.99. That's a 71% price drop from its regular price of $159.99! It will also be shipped absolutely free.
Amazon's $114 price drop on this box set is actually the lowest we have ever seen and as much as I'm sure many of you are tempted to download this series, it would be much better to just buy it on sale right now, especially since it's in Blu-Ray!
For those of you who speak French or prefer to watch shows in French, then you will be happy to know that this box set is bilingual.
Reviews are stellar of course, like this one from a 5/5 happy reviewer:
OMG! Love this show, got it 2 days after I purchased on Amazon. Plus the T-Shirt was a bonus! It was cheaper on Amazon to buy the three seasons together vs separately. I am very happy with my purchase! :)
The extra t-shirt is definitely a nice freebie but keep in mind that you can't choose the size. According to reviews, it comes in a standard XL size, so if that's yours or your hubby's size, then awesome! Otherwise, you could try one of Kristy's 8 Hacks To Refashion Your Clothes For Spring. The lace insert could be the best suited for The Walking Dead shirt and as for the size, you could try making it smaller with one of the many tutorials available online like this one from BurdaStyle.
In case you have somehow never heard of The Walking Dead or you have but you just don't know anything about it, this shows is basically all about zombies. The story follows Rick Grimes, a Sheriff's deputy who awakens from a month-long coma after a run-in with criminals. Upon waking, he discovers that the world is now overrun with zombies and he must do everything to survive as he searches for his missing wife and son. There is of course much more to it, but you will just have to watch it to find out all of the twists and turns.
(Expiry: Unknown)