Amazon.ca: Porcelain 20-Piece Place Setting Was $100 | Now $40 (EXPIRED)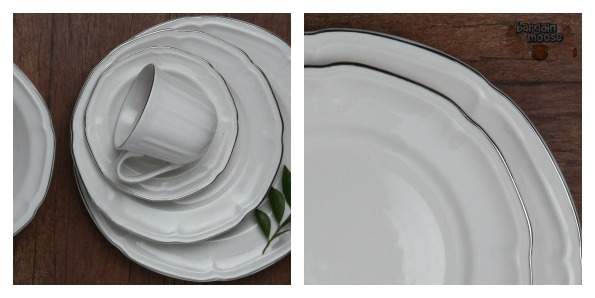 This deal is drawing a lot of attention on the forums, so I thought it blog worthy my dear Moosers. The Melange Nouveau Classic Porcelain 20-Piece Place Setting in platinum (serving for four) is on sale from $100.09 down to $39.77.
While the set is available in other colours, only the platinum is on sale for this price. Now, this is a beautiful four serving set with 20 pieces. The set includes:
Four 10.8 inch dinner plates
Four 8.5 inch salad plates
Four 8.75 inch soup bowls
Four 10 oz. cups
Four cup saucers
This set is safe to use for your daily dinning set if you want. It is microwave, dishwasher, and oven safe up to 400 degrees Fahrenheit. The rounded edges almost in a soft petal pattern are designed to be chip resistant. While porcelain sounds fragile, it is baked at very high degrees to make these dishes stronger than stoneware or earthenware dishes.
There are no reviews of these dishes on Amazon.ca, but there are a few on Amazon.com. One reviewer said:
Great everyday dishes. Came packed great. No scratches. Look great with mixing other dishes as well. Dishwasher safe. I've used them everyday since I purchased them and they look beautiful. Definitely a great choice and buy for everyday use.
A couple reviewers reported minor pocking or runs in the glaze while others reported perfect glaze and no pock marking. Of course, you can always return any defective items you receive if you should receive a flawed set.
Overall, I think this is a lovely set of porcelain dishes and a great price. I also think that a 20-piece set is perfect for smaller families. When you have too many dishes, you never seem to wash any of them until you run out. In our house, that means eight bowls and eight plates (three times over for the different sizes), and then all the silverware is just sitting on the counter waiting to be washed. Yuk. I really like smaller sets myself if there are four or less people in the house.
This set of dishes will ship for free as your order will be over $25. Thank you to FeliciaC for posting this deal on the forums.
(Expiry: Unknown)