Amazon.ca: Fisher-Price 2-in-1 Portable Potty Was $25 | Now $13 (FS @ $25)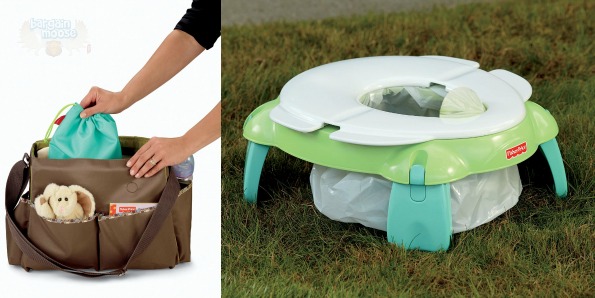 You have a baby and suddenly you do not have any money to spare. If this sounds like you, then check out the Fisher-Price 2-in-1 Portable Potty. It is on sale from $24.99 down to $12.60. Receive free shipping on orders of $25 or more.
Just a warning, the initial description right under the price is not for this item - it is an error. However, you can read further down where the specs are given for this unit. This travel potty features a folding ring that fits into a discreet tote. This way you can take it along when you travel and use it in public restrooms. The seat legs also fold down for easy storage. Three standard size (four gallon) waste bags are included with potty. There is also a splashguard to help boys keep it in the toilet. Ideal for potty training away from home, this is a convenient and inexpensive portable potty.
Reviewers are somewhat divided on the potty - but most the reviews on Amazon.COM are positive. This one reviewer was ecstatic at how multi-purpose this seat was:
Another great feature is that the seat is a dual use seat for travel, topping standard sized potties found in public restrooms. We haven't used it anywhere public yet, but did try it on our home toilet & it worked great
Other reviewers have complained that the seat is too large, but it is designed to fit on a standard size toilet as well. Another reviewer liked the size of the seat as it works well for older kids.
Another reviewer was happy about convenience. They do not have to worry about going to a playground or park without convenient washrooms. She can just set it up in the back of her SUV without issues. The reviewer said:
This portable potty has become my new best potty training friend... I also appreciate that I can use almost any plastic bag for this, and the top seat doubles as a public restroom seat. Super user friendly!
You will not need to buy any special bags for this as it works with a variety of bags.
I could not find this potty anywhere else in Canada. However, most places in the USA had the potty for $19.98 US up to $24.98 US. The cheapest potty (any brand) on Walmart Canada is still $15 and it is not terribly portable. For $13, I think this is a great investment.
(Expiry: unknown)