A Charlie Brown Christmas Free App @ Amazon.ca TODAY (EXPIRED)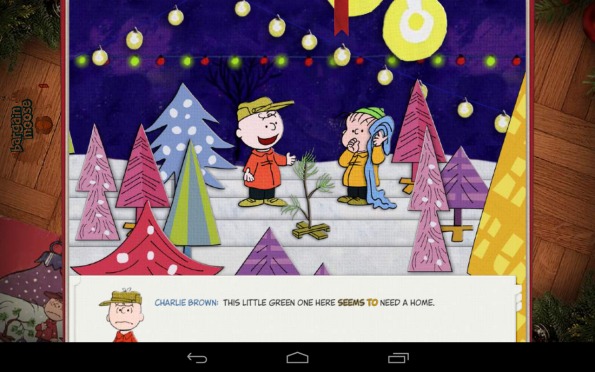 The free app of the day at Amazon Canada is a Christmas Classic: A Charlie Brown Christmas. Join Charlie, Linus, and the whole gang for the retelling of this most endearing of all holiday stories. This app is valued at $5.14 and should be compatible with most android devices.
Peter Robbins, the original voice of Charlie Brown, narrates the story so it will feel nostalgic and familiar to anyone who enjoyed the old cartoons when they were on TV. The drawings are true to Charlie Brown style and the story - you all know the story - is just waiting for you and your kids to rediscover the true meaning of Christmas.
This is an interactive app. You can play Schroeder's piano, go carolling, finger paint, and participate in the Neighbourhood Christmas Lights and Display Contest to unlock decorations for your very own Charlie Brown Christmas Tree. Do all this and more while having fun with the gang. Each page holds new wonders and delights for your children.
Most reviews have been very positive including these:
I liked this app from the title page - the 45rpm record plays the theme song, complete with a touch of static, just like an actual, old school record player - but, beyond that- I have this on my kindle fire - I turned pages and listened to the story with narration, I shut that off and it spoke only a single word that I selected ( to help beginning readers) all the animation worked without a glitch- including the famous toy piano. I really like this one -
and...
I bought this app for my kindle fire and had no problems with it. It was very interactive, fun and I felt as if I was watching the TV show with the added bonus of being a part of it. It is highly enjoyable and recommended.
Do note that there are in-app purchases (like most apps these days) that are available. The game can be played without them but you may want to monitor little fingers so they do not suddenly charge your credit card with the promise of something shiny and fun.
This app is only available for free today so I assume the offer will end around midnight PST as Amazon Canada is based out of Seattle. However, it could always end early so hop on the deal ASAP little Moosers!
(Expiry: 23rd December 2014)