(87% off!) Amazon Canada: Anne Klein Vintage 24-Inch Spinner Was $381 | Now $88 & Free Shipping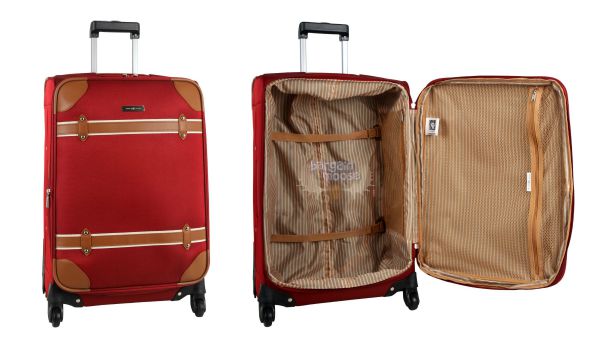 I found a stylish and practical hot deal on Amazon this morning. Get the gorgeous Anne Klein vintage edition 24-inch expandable spinner in red, with a regular price of $380.80, now only $87.84! Because it surpasses the $25 minimum for free shipping, you won't pay any extra costs either.
I'm in love with vintage styling for my decor and now after seeing this bag, for my luggage! This bag reminds me of something my grandmother may have used on her trip across the pond to come to Canada. In a gorgeous red with brown accents, this is a bag you want to be seen with at the airport.
The interior is lined with a brown striped material and there is a zipped area, as well as tie-downs. The four wheel spinner system makes it super easy to trail your bag behind you or roll it beside you. I truly love that feature in an airport, especially if you have more than one bag to bring. The handles are telescoping and have a push-button lock so you can keep it at the right height for you.
There are a few reviews of this bag on Amazon, with most saying they loved the bag. One person gave it a bad review because the airport ruined it, which is totally not the bag's fault.
Looking around the web for comparable prices, I couldn't find any. I don't see this bag available in Canada, but where I found it in the U.S., it sold for $180. The only thing I could find to show you how great of a price is the Anne Klein handbags that sell at Hudson's Bay for an average price of $100 or more. This means that this spinner is actually cheaper than most of the handbags. I also noticed that the smaller 20-inch spinner is $140 on sale at Amazon as well. You might as well pick up the larger one!
(Expiry: Unknown)