77% Off High Sierra Fatboy Backpack - Now $17.52 @ Amazon.ca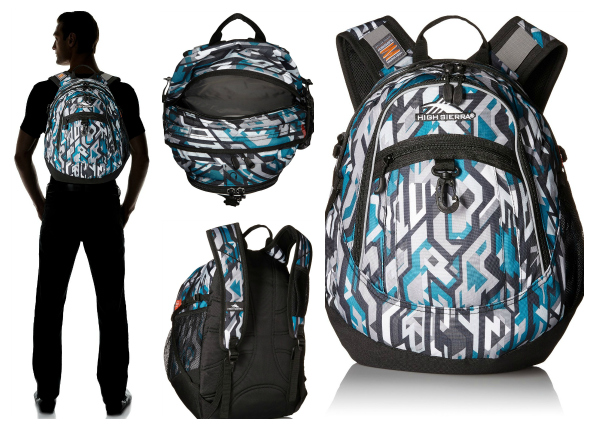 Amazon Canada is offering a dazzling 77% off the High Sierra Fatboy RVMP Backpack in the Geo Native/Black print. Only this print is discounted this far, the other prints cost substantially more. Originally $76, this backpack is on sale for $17.52. Receive free shipping with Amazon Prime. Shipping is free on $25 or more for any order.
My first thought was that this backpack's original price is a bit inflated. However, the absolute cheapest High Sierra backpacks at Best Buy cost $49.99 (only two) and then the price jumps to $75.99. There are also several other colours on sale at Amazon but the next best price is $34.99 and it goes up from there. I am positive this is a great deal.
This backpack has a large, multi-compartment design. There is a dedicated tech spot tablet/computer sleeve that should fit up to 13" laptops or tablets. There is also a dedicated media pocket with a headphone port. Inside you will find a great organizer with multiple pockets for everything you need. There is even a key fob so you do not need to fish your keys out of the bottom of your backpack.

The outside of the bag has a clean finish but does have a mesh water bottle holder to keep your water away from your electronics. There is also a monster hook on the outside and bottom straps for attaching extra gear to this backpack. Overall, this is a great mid-size backpack. It is well suited to teenagers who need to carry their books back and forth to school as well as university students who do not carry every single textbook they own to class.
I have heard that High Sierra makes good quality back packs and their full price is usually on par with other quality backpacks such as Swiss Gear. It is very nice to find one under the $20 range as you know that you are scoring a good product for an amazing price. I am not sure how long this deal will last, so grab it now.
While you are shopping for backpacks, check out this Piper Gear HLS 9 Lightweight Day Backpack. Originally $36.95, it is now on sale for $10.59. You could add this to your cart for free shipping.
(Expiry: Unknown)