52% Off Garmin Forerunner 620 GPS Running Watch was $440 now $210 @ Amazon.ca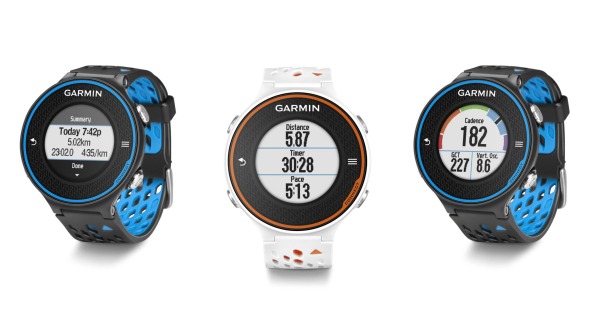 Are you a runner or did you recently start running? Then you need a Garmin watch! In the running community, everyone knows that Garmin running watches are a must for serious runners. Amazon Canada has the Garmin Forerunner 620 GPS Running Watches on sale, at 52% off. These were originally $439.99 and are now down to $209.99. If you've been looking for a running watch, this sale might be for you. The 620 GPS Running watch is available in two colors: black/blue, white/orange. Free Super Saver Shipping is available with these watches.
I can't even pretend I'm a seriously runner, but my mother is. I really admire her dedication and tenacity. She runs almost everyday, and ran a half-marathon just last year. I remember when she purchased a Garmin watch. She was excited to show it to me, although I had no idea why it was so great. But to her, it was necessary and would help her keep track of her progress. I also remember her saying that Garmin was the best choice for a running watch, even if it came with a hefty price tag. I understand why now, the list of features with this particular Garmin watch goes on and on.
Now, to start with the features on these watches. This watch is described as your "training coach". The 620 GPS Running Watch has a color touchscreen that displays track distance, pace and heart rate. It advises you on recovery, race predictions and V02 max estimate. The HRM-Run Monitor collects your data to inform you about your cadence, ground contact time and vertical oscillation, or degree of bounce. At the end of your run, the watch gives you a run summary and it vibrates during your run to give you any notifications.
This Garmin watch also gives you access to free training plans on Garmin Connect. Garmin Connect also allows you to upload your data for live tracking and social media sharing. This way you can compare and compete with friends online, or even train for a race together. I know my mom trained for her half-marathon with a friend and it really helped her stay on track. They followed a training plan with strict guidelines to achieve their goal time. You can probably find similar plans on Garmin Connect, that suit the goals you have set for yourself as a runner.
These watches are ships from are sold by Amazon.ca and qualify for Super Saver Shipping.
(Expiry: Unknown)