1800 Flowers Canada Promo Code: Exclusive Free Shipping On $60+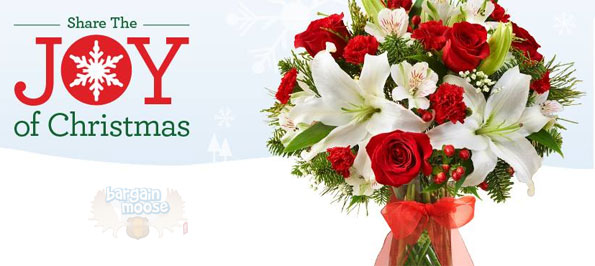 Need flowers? Then order them online at 1800 Flowers and make sure to use our Bargainmoose exclusive coupon code to get free shipping on any order over $59.99.
Click here to shop @ 1800Flowers.ca
Coupon Code: MOOSEFS
Discount: Free Shipping on $59.99+
Expiry: 12th December 2014
Have you always just waited until the last minute to get flowers at the local flower shop? That's great and all but I, for one, have stopped doing that because I have all too often have had to wait far longer than anticipated for the flowers and sometimes, I wasn't even perfectly satisfied with the bouquet. Sure, there is something to be said about going into the store and picking out the exact flowers you want but if you don't have time to do that anyways, then getting them online is the way to go.
Plus, if you get your flowers online, then you can often use coupon codes like this Bargainmoose exclusive to save money and make your life all around easier! :)
When it comes to ordering flowers online, it's standard practice for a $14.99 service (or shipping) fee to be included as this usually covers the time that your local florist will put in to assemble the flowers and come bring them to you. But all too often, these fees are a pain in the behind, especially if you have already selected a large and expensive bouquet. The last thing you want to be doing is paying more fees, so our Bargainmoose exclusive 1800 Flowers coupon code should definitely help matters.
Although it expires in a couple of days, the best part about it is that you can order flowers for a future date. So if someone's birthday is coming up or you know that you will be needing flowers to say, greet someone at the airport, then it would be a good idea to order them now ahead of time. This will ensure that you won't have to run around in a snowstorm looking for flowers on the day, thereby making sure you have one less thing to worry about it in this business holiday period.
Personally, I won't be needing to send any flowers this month, but I am definitely tempted to get a Christmas bouquet for myself, like the Glorious Christmas one. Ranging from $69.99 to $89.99 in price, it's composed of roses, carnations, festive hypericum and evergreens. What I love about it the most is that it comes in a vase filled with shimmering ornament balls... very festive indeed!