Half-Price Animal Crossing Amiibo Festival Wii U Now $40 Shipped @ Amazon.ca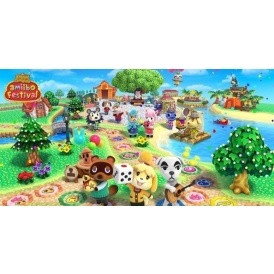 Here is a great game for the young and the old! I immensely enjoy this particular series of video games, but it is also great for pre-teens and teenagers as well. The Animal Crossing video games have won over my heart on the Gamecube, Nintendo Wii, Nintendo DS and now the Nintendo Wii U! Get your paws on the Animal Crossing: amiibo Festival for the Nintendo Wii U for just $39.99. That is 50% off the original price, and also the best price you will find in Canada. Since the item is over $25, you will also get free shipping.
The Animal Crossing: amiibo Festival for the Nintendo Wii U has been on my "to buy" list for quite some time. I have never seen it available for this low of a price, and I am quite excited. For $39.99 you will get the Animal Crossing game, two amiibo figures and three amiibo cards. The Animal Crossing amiibo figures and cards will get their own party game too.
You can also get the Animal Crossing Amiibo 3-Pack Animal Crossing Series Edition on sale at Amazon.ca for 56% off right now, which has you paying $19.99 for this pack. While these games step away from the original Animal Crossing game play, they are still known to be very entertaining for kids and adults. I can't tell you how many hours of enjoyment I get out of these games.
In previous Animal Crossing games, you move to an island with animal neighbours. You work hard to earn money to pay off your mortgage, upgrade your home, and get all the latest trends in furniture and fashion. You also need to take care of your island, and the online play is immensely addicting. Make friends, visit their towns and take some of their exotic fruit home to plant. Now that I have talked about Animal Crossing, I am going to want to play it when I am done writing this post.
Since this video game is shipped and sold by Amazon.ca, you will get free shipping. Amazon.ca has a free shipping threshold of $25, which isn't all that bad at all.
(Expiry: Unknown)