E3 Pre-Order Games 20% Off, Or Some @ $30 Off, ENDS TODAY @ Amazon.ca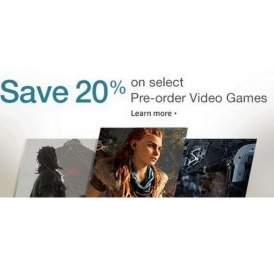 If you have a gamer in your house, chances are you have heard of the E3 event which ran from June 14 until today, held at the Los Angeles Convention Center.

The E3, or Electronic Entertainment Expo, is an annual trade fair for the video game industry that is presented by the Entertainment Software Association (ESA). A multitude of video game publishers and accessory manufacturers attend the E3 to introduce upcoming games and game-related merchandise.
Amazon.ca has gotten involved in the excitement, offering games available for pre-order that were announced at the E3 and they are offering 20% off of a selection of games, as well, some games are discounted with a discount of up to $30.
The sale ends at 2:59 AM EST June 17, 2016. When you add the game to your cart, the discount of 20% off will show up when you check out. Games will start from around $64, after discount. There are some limitations to the sale, for example, non-digital content games are not included in the sale; you can read about that here.
There is also a Pre-order Price Guarantee on your games! Order now and if the Amazon.ca price decreases between your order time and the end of the day of the release date, you'll receive the lowest price. (Some restrictions apply.)
Yesterday, CBC News published a list of Top 12 Games At E3 2016, selected from the numerous games that were introduced at the E3 Convention. It's a great place to start, when considering what games you will want to pre-order in this Amazon.ca sale!
Here is a game exclusively for the PS4 called Death Stranding, featuring Norman Reedus from AMC's 'The Walking Dead.' There is no release date announced for this game, but remember, Amazon.ca offers a 'lowest price guarantee.' as mentioned above.
Shipping on the games will be free when a purchase of over $25 is made at Amazon.ca, so rest assured it looks like shipping will be free!
(Deal expiry: June 17th, 2016 at 2:59 am EST.)