Walmart Canada: $150 Off KitchenAid Stainless Steel 10pc Set - Now $98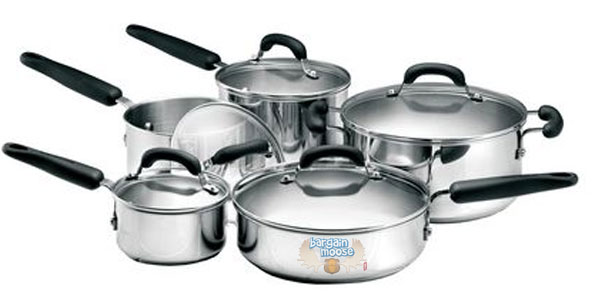 With so many amazing deals going on right now at Walmart right as part of their Anniversary Even't, it's hard to know where to look but here's a really good one I spotted: you can currently get the KitchenAid stainless steel 10-pc set on sale for just $98. It was originally priced as high as $249, putting this at a 60% discount!
Silver metallic in colour and made of stainless steel, this KitchenAid cookware set comes with a stock pot, 3 sauce pans and a frying pan, along with all of the lids for these. I have been in the most deperate need of a cookware set and this one is definitely right up my alley. Not only is it a really good deal because of the price but it's also a particularly good one for a KitchenAid-branded set. I had a look on Amazon for KitchenAid cookware sets and the cheapest one I found is actually the 11-pc one for $214.24, which personally isn't appealing to me at all because compared to Walmart's deal, you would be looking at an extra piece for more than $115.
Plus, this cookware is also dishwasher safe and at that price, I wouldn't worry too much about that little factor anyways. In any case, it's still nice knowing that once you're down cooking, you can simply throw everything in the dishwasher without fear of something warping or breaking.
A couple of months ago, an extremely happy reviewer posted the following 5 stars out of 5 review:
I bought this at an amazing price... Great products.. All ready to cook my holiday feast!! Thanks Walmart.
And while it doesn't apply to this year's holidays, it's nevertheless a good idea. If you're planning on either hosting dinner over the holidays or perhaps even helping out with one, then you can never have enough containers, cookware pieces... basically, everything you have, you now need in double or triple! So, even if you already have a cookware set, this one could totally serve as a backup one for those big family and friends kind of events as there is nothing worse than not having enough room to either cook or store all of the food in.
Even better is that you won't have to worry about any additional fees as Walmart offers free shipping.
(Expiry: 25th September 2014)