Take 50% Off The Disney Fairies Backpack For Just $7 & Free Shipping @ Walmart.ca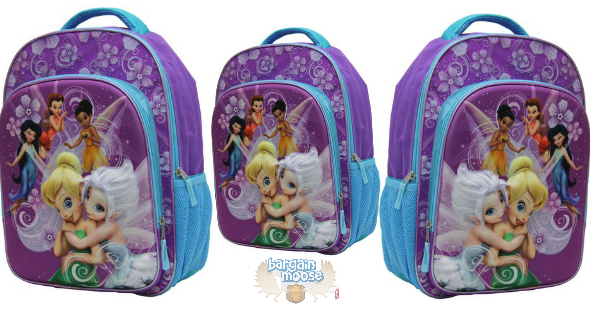 The Disney Fairies Backpack is not just for kids, I love mine. Right now you can shop at Walmart.ca and save 50% off of the Disney Fairies Backpack for just $7. You will get free shipping too. These backpacks are great for young kids or adults who are young at heart. I use mine to keep Gatorade and small snacks in the car if I ever find myself hungry while on an adventure.
If you happen to have a child obsessed with Disney fairies, then check out this offer from Walmart Canada. Your little girl will be delighted to carry this cute bag around with her everywhere she goes. Perfect for daycare or little girls just starting school, this Disney Fairies Backpack will cost you just $7 instead of the original price of $14 from Walmart Canada.
This Disney Fairies Backpack is constructed of 600D material which makes it suitable for both daily and occasional use. Tinkerbell has to be my favourite of the Disney fairies, and she is featured as the main character on this bag. While you may think that this bag is for children only, the straps are so adjustable that even as an adult I am comfortable wearing this bag for long periods of time. The shoulder straps, handle and back are even padded.
This backpack's dimensions are 12 x 5 x 16 so you can even slide a laptop inside, if your laptop is small enough. There are two mesh pockets on either side for juice, water or even baby bottles. The fairies on the front pocket are even 2-3D. Overall this product holds a 4.6 star rating out of 5 reviews. Here is one of the Walmart customer reviews on this product:
I bought this Disney Fairies Backpack for my granddaughter as she is starting daycare. This bag has plenty of room and pockets for all of her clothes and teddy bear. All of her essentials for daycare fit inside. I am very pleased with this purchase. This backpack is so cute with Tinkerbell and the other fairies. The price is also unbeatable.
The only poor review I read was that the quality for this backpack was only average. This customer doubted the durability of this bag. I am not too concerned. For just $7 I am sure you will get your money's worth out of this bag. While this Disney Fairies Backpack is available at Walmart.ca only, you won't be complaining. Walmart Canada offers free standard shipping on all orders, big or small.
(Expiry: Unknown)