Take 50% off Minnie's Limousine Toy for $10 & Free Shipping @ Walmart.ca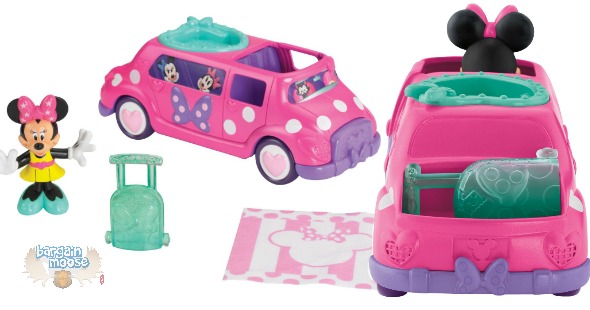 How cute is this Disney Minnie's Limousine toy from Walmart Canada? This toy would have normally cost you $20, but it is now on clearance sale for just $10. Let your child explore the house with Minnie and her limousine for just half the price, while supplies last. You will get free shipping too.
During the Winter months, Minnie feels like traveling to warmer climate areas of the world. Of course, she darts back and forth from the airport in style with her limousine. Her limo is designed just for her, polka dots and all. The back seat of Minnie's Limousine even has a swimming pool - talk about spoiled. Minnie comes complete with her suitcase as well.
Minnie and her limo are best suited for children aged 3 to 5, probably because of the small parts. If your little girl would like more of these adorable Disney figurines, there are some other clearance deals available. The Tea Party with Daisy Bowtique was $25 but is on clearance sale for $15. If Minnie is not already spoiled enough with her own limo, how about her own yacht? The Minnie Mouse Polka Dot Yacht was $30 but for a limited time you can pay just $15. Minnie can even go for a bike ride for half price. The Minnie's Bike Ride play set was $30 but is now only $15.
After reading reviews for these Disney Minnie products, I was pretty impressed. The toys seem to be a good value for the cost, and considering they are on clearance sale, is even better. Here is one of the reviews from the Walmart Canada website:
I got this Disney Minnie play set to go with other Minnie Mouse figures I already had so our granddaughters would have more to do with the Minnie Mouse figures than simply change their clothes. One suggestion: I would like to see Minnie Mouse accessories available separately without the Minnie figure. Since each of them come with Minnie I now have four Minnies. This is not a big deal, but I might want to add more accessories, but I don't need any more Minnies!
Not only does Walmart.ca always have great clearance and rollback sales, but they also always offer free shipping. You can spend $0.01 or $1000 and you will still receive free shipping no matter how big or how small of a purchase you make. This makes hot deals even hotter since you don't have to take any shipping costs into consideration.
(Expiry: Unknown)