Sears Canada: Princess Factory Dance Class Dress-Up Set - Now $12.94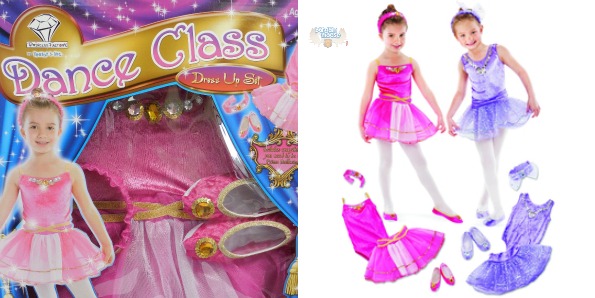 Sears Canada is selling the Princess Factory Dance Class Dress-Up Set complete with two dance outfits for just $12.94 on clearance. You will receive an outfit in pink and an outfit in lavender for girls ages three to five years old.
This is a really good deal in my books because you get two outfits for just under $13. That works out to $6.50 an outfit and they come complete with leotard, tutu, sewn slippers, and ruffled headband. One set comes in pink and one set comes in purple.
I was attempting to price compare, but could find this set so few places. I did find a set of the singular (one set) for $23.99 + shipping at Amazon.com. Besides that I couldn't find much as this set is several seasons old.
There are two reviews on Sears Canada and they are polar opposites! One buyer loves the sets while the other was disenchanted with the quality. Here is what the unhappy buyer had to say:
ordered these for my girls.with in the first hour my house was covered in glitter from one of the tutus and sequins were falling off off the bodysuits and shoes.total wast of money.
Here is what the happy buyer had to say:
Ordered the Princess Dance Dressup set for my 3 year old granddaughter. As soon as she opened it, she dressed up in the purple set adding a pair of white tights to complete the outfit. She then put on a "Wiggles" CD and began to dance. The outfits are well made and durable. This is the first time I have seen an outfit that includes the ballet slippers, and tierras that are made with soft comfortable fabric covering the head band. I would recommend this product to parents and grandparents alike as a gift for 3-5yr olds that like dancing as much as my granddaughter.
Get it shipped to your local store for free to avoid shipping charges that start at $7.95.
There are several other costumes on clearance in the Sears Outlet you might want to take a look at as Halloween is on its way. This MARVEL adidas Special Effects Hero Mask is 60% off - now only $9.94. The SUPER MARIO Kids' Deluxe Costume is also 60% off at only $14.94. You can also purchase a CLONE TROOPER Rex Deluxe Costume for Kids for only $27.94 on clearance.
(Expiry: unknown)