Sears Canada & H&R Block: Extra 10% When you Transfer Tax Refund to a Sears Card (1st)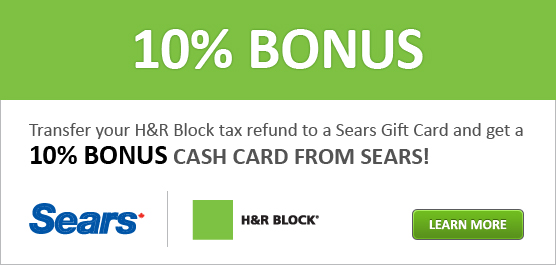 Sears Canada and H&R Block have teamed up once again for an odd deal: If you get your taxes done at an H&R Block - you can choose to transfer your tax refund to a Sears Card, and Sears will give you a 10% bonus cash card on your refund.
These 4 steps from Sears and H&R should have you covered:
Let our tax professionals complete and file your tax return.
Choose the Instant Cash Back service option and receive your refund on an H&R Block Debit Card.
Ask to transfer all or a portion of your H&R Block Debit Card to a Sears Gift Card
Receive a Sears Cash Card worth 10% of the transferred value to spend on anything at Sears until May 31, 2012.
That could actually be a decent value, and if you are planning any big purchases like appliances, it might be worth the transfer. For example: if you got $1000 back and transferred it to a Sears Card, Sears Canada would give you an extra $100 cash card. This is a pretty good deal I think!
Expiry: 1st, May 2012