Sears Canada: 30% Off 3, 25% Off 2 - Fashion Bras + Panties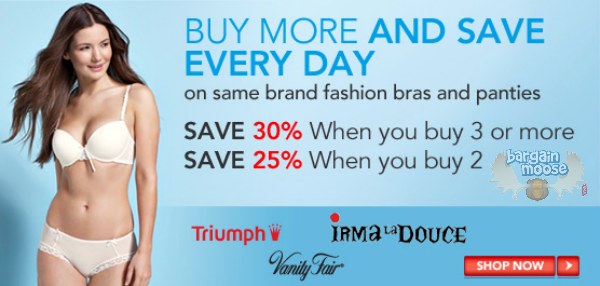 Sears Canada actually has a pretty good sale on Vanity Fair, Triumph and Irma La Douce lingerie for women. When you buy 2 pieces of the same brand you will receive 25% off, if you buy 3 pieces of the same brand, you get 30% off! Time to get yourself a pretty matching bra & pantie set!
OMG.. the Irma La Douce brand is sooo beautiful! Check out this Irma La Douce Ophelia Underwire Bra Style for $49.99 and this Irma La Douce Orelie Half Cup Underwire Bra also $49.99. Get them both and pay only $37.49 a piece! Add on this Irma La Douce Monique Underwire Bra which is also $49.99 and pay only $34.99 a bra, 30% off!