Hudson's Bay Canada: 30% Off Women's Fall & Winter Coats Today Only (Expired)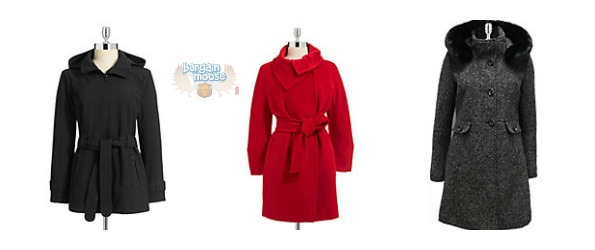 The Bay is having a super flash sale to get you ready for the colder weather. Get 30% off all women's outerwear today at Hudson's Bay.
I think I need a new fall jacket. All I have is hoodies and cardigans so when I got out for a night on the town or to something more dressy, I either look out of place or I'm cold. Usually, I pick cold as fashion hurts. So, this sale at Hudson's Bay is the perfect time to pick up a new jacket and maybe I'll even find a second winter coat too. Someone needs to untwist my rubber arm ;)
Apparently moto jackets are all the rage and I can see why. This Guess belted moto jacket is divine! I love the belt and the offside zipper, as it creates a flattering look on any body. The cognac colour is also perfect for blondes like me with blue eyes. Instead of spending $198, I'd get this jacket for only $138.60.
I don't know how many years I've been lusting after a red wool coat. I think it just looks so glamourous and I'm picturing wearing it to a Christmas event and just standing out from the crowd. This Dominic Bellisimo Fit and Flare wool coat in red is the perfect length. While the regular price of $598 might make you gasp, the sale price of $418.60 might still have your mouth gaping, but this is a coat that your family will handing down after your funeral. It is truly timeless.
If you are looking for something simple and black (yes we've all been there), check out this Calvin Klein embossed zip front trench jacket. Priced right with a sale price of $147 and a regular price of $210, this jacket will take you anywhere you need to go in any weather with wind and water resistant fabric.
Hudson's Bay offers free shipping on orders over $99, so you might want to consider this when you are shopping as it could add to the final price of your coat and that little bit more expensive coat might look better when it doesn't have shipping charges.
(expiry: 3rd September 2014)