Want Free Reese Peanut Butter Cups? Download The 7-Eleven App Today! (EXPIRED)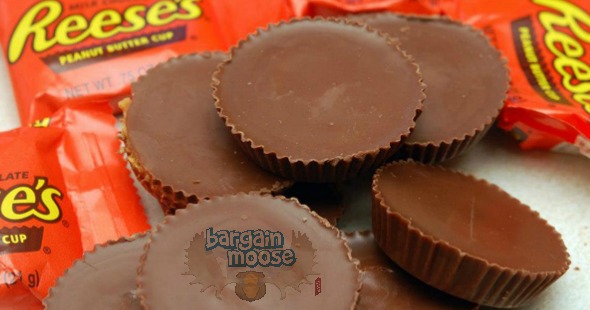 *BUMP! Nobody wants to miss getting some free Reese Peanut Butter Cups!*
What. Why am I sitting here?! 7-Eleven Canada is giving out free Reese Peanut Butter Cups today for their Freeday Friday offer. This delicious chocolate treat has to be my favourite and I need to get to a 7-Eleven today. Reese PB Cup... get in my belly! To get your free 46g Reese PB Cups, just download the 7-Eleven app.
*Drool* I love me some Reese's Peanut Butter cups. Did you know that by downloading the 7-Eleven mobile app, you can get this delicious candy for absolutely free today? While quantities last of course. These beauties regularly sell for about $1.29, so while the discount is small, how could you turn down free peanut butter cups? The Reese Peanut Butter Cups 46g will have 3 delicious cups to share, or entirely consume yourself (like I will do). No sharing. Sorry!
As if this isn't enough chocolate, the Hershey Store even seems to sell the World's Largest Reese's Peanut Butter Cups. Have any of you Moosers actually seen these in Canada? I just want to mash these into some chocolate ice cream and enjoy. Although I am not sure if they will survive the car ride home to make it into the ice cream. Be sure to enjoy this freebie guys, I have not seen 7-Eleven Canada offer these for free during their Free Day Friday promo yet.
While the Freeday Friday freebies are my favourite among the 7-Eleven Canada offers, their mobile app will provide you with many other discounts as well. These offers might vary a little bit from location to location, but for the most part they will remain consistent throughout all of our provinces. There are lots of offers that will include BOGO, freebies, discounts and more. Just click the discount you would like and enjoy. Just remember, don't redeem this offer unless you are already near 7-Eleven because the offer will expire in 15 minutes after clicking "redeem". The 7-Eleven App will even give you directions to your closest 7-Eleven store if you need.
(Expiry: 18th September 2015)