Want a Free Coffee Crisp Latte Chocolate Bar? Download the 7-Eleven Mobile App Today!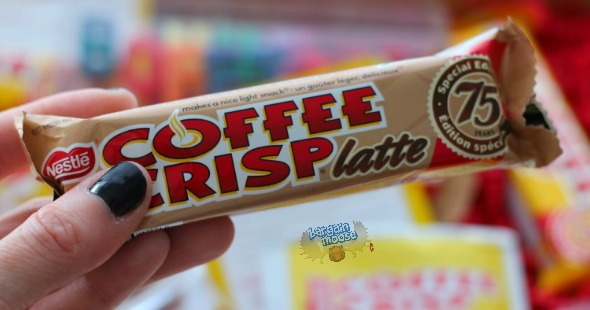 Do you know what today is? Today is Free Day Friday! Download the 7-Eleven mobile app and enjoy your free offer of the day. I was disappointed that 7-Eleven Canada did not have a freebie offer last Friday, but maybe this one will make up for it. Until the 18th of January you can receive 1 free Coffee Crisp Latte 42g chocolate bar per day at your local 7-Eleven Canada store.
You can download this 7-Eleven mobile app from the App Store or Google Play on both Apple and Android devices. The app will only take a short time to download, and trust me it is worth it. 7-Eleven Canada is consistently offering BOGO and freebie offers through their app. You will need to sign up using your email address to receive the hottest new offers.
For the next couple days you can use the 7-Eleven app to redeem a free Coffee Crisp Latte chocolate bar. 7-Eleven seems to know that us Canadians love chocolate and coffee. That is usually what their freebies consist of, and this one happens to be combined. This chocolate bar would normally cost you $1, but free is always great. Coffee Crisp happens to be my favourite brand of chocolate bar, and I have yet to try this flavour. Have any of you Moosers tried the Coffee Crisp Latte chocolate bar yet? Let us know what you think in the comments below.
There are other offers available right now on the 7-Eleven app. These offers include:
Buy one get one free 1/4 lb Big Bite
Buy one get one free Large Hot Beverage
Buy one get one free Cheese Burger
Buy one Doritos bag and get a free Meatball Kabob
Buy any six Hot Beverages and receive a free medium Hot Beverage
While these offers may vary depending on your 7-Eleven location, it is pretty simple to see what offers are available near you. Once you have downloaded the 7-Eleven mobile app, click the offer you desire and a list of local participating stores will pop up. You can even click the location you want and the app will give you directions on how to get there. It also seems to give you more offers when you claim more offers.
Enjoy your free Coffee Crisp Latte chocolate bar, I know I will!
(Expiry: 18th January 2015)