True Religion Coupon: Free Tee in Stores or $50 Off Online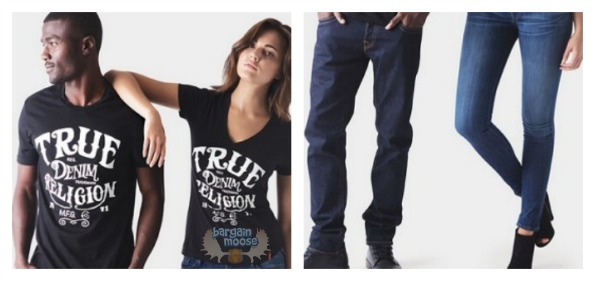 There are two great deals happening over at True Religion right now to choose from depending on how you like to shop.  The first one is a coupon code for $50 off regular priced adult jeans when you shop online.  The second deal is a free tee when you shop in stores and try on any pair of jeans
Click here to shop @ Truereligion.com now
Coupon Code: TRUE50
Discount: $50 Off Jeans
Expiry: 13th August 2014
The coupon code will save you $50 on all regular priced adult jeans at True Religion online. The jeans at True Religion start at $252 so saving $50 in a nice chunk of change. Their jeans happen to be a favourite with celebrities and are very trendy hence the above average cost.  Personally, I would love to own a pair because they are known for making your backside look fabulous!
As for the in store deal, you wont need to spend a penny to get the free tee.  Head in to your local True Religion store and try on any pair of jeans to get your free t-shirt.  You don't need to buy the jeans you try on or anything else to get the freebie so it is totally worth it.  To be honest, I could not afford to pay for a pair of True Religion jeans (even though I want a pair so badly) but trying on a pair of my dream jeans for fun is a different story.
The free tee is a classic True Religion tee in black that would look good on a man or a woman. The deal is also good for both men and women, which is awesome! This deal will be offered at all True Religion stores except for their outlet stores. They don't actually list the regular cost of the tee but most of their tees are about $50 so this would be a nice freebie.
Shipping Information:
True Religion does ship from the US which means you may incur some duties.  There is a silver lining though, they offer free international shipping (including Canada) for orders of $150 or more.  That is not bad at all considering most companies that ship from the US will charge you an arm and a leg for the cost of shipping.
If you are getting the in store deal, there is no expiry date listed.  The free t-shirt deal will be available in all stores while supplies last. Some stores may run out faster than others so there is not likely to be an exact expiry date for all of the stores included.