Get a Free Pineapple Edible Pop @ Edible Arrangements Canada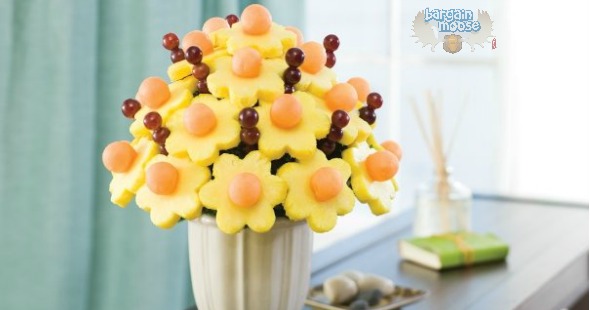 One of my New Years Resolutions was to eat more fruit, so I was pleasantly surprised when I saw this freebie offer from Edible Arrangements Canada. As part of your "Fruit Resolution", you can sign up for email notifications at EdibleArrangements.com and receive a voucher for a free Pineapple Edible Pop.
Sign up for your free Pineapple Edible Pop voucher now, before supplies run out. If supplies do not run out, this offer will be valid until the 17th of January 2015. Your freebie voucher will be valid for use until the 1st of February 2015 so you have a good amount of time to head into your local Edible Arrangements store to redeem the offer.
The last time I ordered something from Edible Arrangements was about a year ago when my friend had her baby. Of course I sat in the hospital with her and enjoyed some of the delicious treats. We ordered the Delicious Daisy arrangement for around $35. This arrangement had the Pineapple Edible Pop in the mix. This treat was a flower shaped pineapple piece with a round piece of cantaloupe as the center of the flower. It was delicious.
I ordered one of these free vouchers myself. There is an Edible Arrangements store not too far from me. I can't promise that I won't get suckered into buying other things when I go in, although this freebie does not require any purchase. I see what you did there Edible Arrangements, I see what you did! How can you head into a store full of delicious fruit and chocolate covered fruit and not buy anything? Challenge accepted.
Of course, I can tell  you a little bit about what they do offer in stores.. so you can prepare yourself for the challenge. The Chocolate Dipped Strawberries Box is a delicious favourite for just $29. This treat is great for any occasion and can easily be shared between multiple people. I am a bit frugal minded though, I would simply head into the grocery store myself and make this for a whole lot cheaper. Considering there are only 12 strawberries in this pack, you could probably buy chocolate dip and strawberries for under $10 in total at your local grocery store.
Enjoy your free treat from Edible Arrangements :)
(Expiry: 17th January 2015)